Bloom Energy is going where no fuel cell company has gone before – it's raised over $1.1 billion with another $130 million round.
The company says it is close to reaching profitability and may go public this year. Last year, Bloom announced it would double manufacturing capacity, after quadrupling it the year before.
Raising this much capital puts Bloom in the big leagues of cleantech investment, especially now, when venture capital is down overall.
Credit Suisse invested $30 million and an undisclosed investor put in $100 million, according to Fortune Magazine. Kleiner Perkins and Goldman Sachs are among Bloom's many existing investors.
At $101 million in pro forma revenue for the third quarter of 2012, that's more than all fuel cell companies combined, says Fortune.
"Bloom Energy is pleased with the substantial progress we have made in 2012. On a pro-forma basis, Bloom has become gross-margin-positive in 2012 and is on track with our goal to be profitable in 2013," Bill Kurtz, CFO of Bloom told Fortune.
Companies that have installed Bloom fuel cells include Apple, eBay, Google, Adobe, AT&T, FedEx, Staples, Coca-Cola, Walmart, Owens-Corning and Urban Outfitters.
Those boxes are Bloom's fuel cells: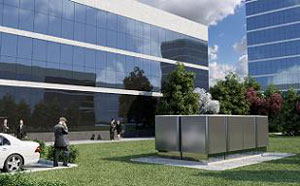 AT&T is Bloom's biggest customer with 17.1 megawatts of fuel cells, taking advantage of Bloom's service model, which launched last year. Just like solar leasing, through Bloom Electrons customers sign long term contracts to buy the energy fuel cells produce and Bloom owns and operates the equipment.
Bloom's fuel cells run mostly on natural gas or biogas, as in Apple's 5 megawatt installation at its new data center in North Carolina and a San Diego office building, the nation's biggest net-zero energy project.
Both run off biogas generated from local landfills.
Unlike wind and solar, fuel cells provide baseload energy. The industry is finally hitting its stride. Other leading players are UTC Power, which provides on-site generation for companies and FuelCell Energy, which is finding success with utility companies.
(Visited 5,002 times, 17 visits today)