Whole Foods Market is taking an important step in providing fresh, locally grown produce to customers.
A new store under construction in Gowanus, Brooklyn, will host a 20,000 square foot greenhouse on the roof – the first commercial-scale greenhouse attached to a supermarket.
Whole Foods isn't growing the food, it will simply buy it from local organic grower, Gotham Greens, which is building (and paying for) the greenhouse. Gotham will grow organic produce year-round and sell it to all nine Whole Foods stores in New York City.
This is what the greenhouse will look like: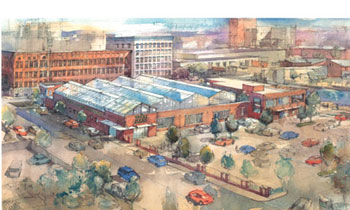 "Gotham Greens has been a valued local supplier of high quality, flavorful and fresh produce to Whole Foods Market since early 2011, making this greenhouse project a natural and extremely exciting next step in our relationship," says Christina Minardi, Northeast Regional President of Whole Foods. "We're particularly excited to partner with a local organization with roots right here in Brooklyn and a mission in line with our own, in that we both care deeply about providing local, fresh and sustainably produced food."
The rooftop farm is being outfitted with irrigation systems that use up to 20 times less water and enhanced glazing materials and electrical equipment that cut energy demand.
The project eliminates long distance food transport and its associated emissions, while ensuring product freshness, quality and nutrition for thousands of customers in the area.
Whole Foods also plans to offer educational opportunities for area students and local schools to learn about greenhouses, farming and various environmental initiatives.
Gotham Greens is one of a handful of urban farms that have cropped up in Brooklyn during the past couple of years. Unlike its peers, which have open air farms on roofs and vacant lots, Gotham grows food hydroponically in a rooftop greenhouse that runs on solar energy.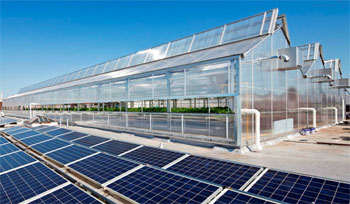 Gotham produces 80 tons of herbs and vegetables, which it sells to local supermarkets, restaurants and institutional customres. Using a greenhouse allows them to grow 7-8 times more food than traditional soil farming – about the same as a six acre farm.
"They grow, cut, and deliver their product in the same day, which is an amazing ability given their consistent quality," Michael Anthony, Executive Chef at Gramercy Tavern told BloombergBusinessweek. Gotham delivers within a 15-mile radius and plans to open two more greenhouses, another in Brooklyn and one in Queens.
It was able to keep supplying vegetables even right after Hurricane Sandy.
Here is Gotham Greens' website:
(Visited 9,858 times, 55 visits today)