In a first for the airline industry, Virgin Atlantic Airways is analyzing its food supply chain to make sure that only sustainably-sourced food is served on its flights.
By the end of this year, UK's Sustainable Restaurant Association will have rated Virgin's global catering supply chain. After that, the group will work with Virgin to improve on areas of weakness.
Suppliers will be judged on where they source food (sustainable seafood, meat and vegetables) and how efficient they are in water and energy use.
Virgin wants its airline passengers to be confident of the provenance of the food they are eating and how it was produced, just as they would in any restaurant, says the Sustainable Restaurant Association.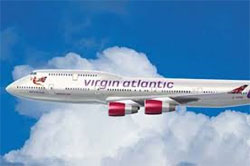 'We continue to be an industry leading airline on sustainability, driving solutions for the rest of aviation to share. Our adventurous spirit means we're not afraid to push boundaries in following our sustainability agenda. Value for money and quality of product are of course hugely important factors, but our passengers now rightly demand that we look beyond that, and ensure we are making the most sustainable choices. The SRA ratings will allow us to understand how we and our global suppliers are performing on this front, and how to work closely together to drive improvements," says Reuben Arnold, Director of Customer Experience at Virgin Atlantic.
The Sustainable Restaurant Association works with over 1,000 restaurants in the UK and Eurostar, the biggest train operator in Europe.
Will they also advise Virgin on increasing the amount of recycling related to food operations on their planes? Although Virgin leads the airline industry on recycling, it could do much better.
Last year, Richard Branson made the bold announcement that Virgin Atlantic Airways would run on fuel from recycled industrial gases by 2014.
(Visited 7,895 times, 6 visits today)