For the 17th year, the American Institute of Architects' Committee on the Environment (AIA/COTE) has chosen its Top 10 Green Buildings for 2013, which showcase excellence in green design.
This year continues the theme of social consciousness, started in 2012, where participants are asked to design high performing buildings on a limited budget.
While the hot trend for 2012 top buildings seemed to be creating native habitats for storm management and taking co-generation to the next level, this year's buildings bring energy efficiency to new levels combined with advanced water management.
Here are two of the winners:
Matarozzi/Pelsinger Multi-Use Building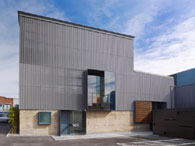 Located in an industrial area of San Francisco, this building is certified LEED-NC Gold for adaptive reuse of a historic and previously derelict turn-of-the-century industrial building.
A warehouse was transformed into a multi-tenant office building and a LEED-Platinum restaurant to bring the public to the area. Architects made the parking lot smaller and turned it into an outdoor dining courtyard and organic garden where herbs are grown for the restaurant.
The owner believes the workplace has successfully attracted and retained employees. 40% of employees now bike to work thanks to bike parking and showers.
Energy efficient design plus heat that wafts up from the ground floor restaurant means that no external heat source is needed except for the coldest days.
The building's new metal skin is perforated with fields of small holes that allow light and air to pass through hidden operable windows while avoiding afternoon glare. The perforated outer skin mitigates solar heat gain while enabling cross-ventilation of the interior.
It also has solar and a green roof.
Federal Center South Building 1202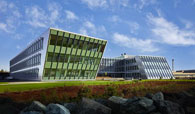 credit: Benjamin Benschneider
Built on a 4.6-acre brownfield, this 209,000 square foot building in Seattle is the regional headquarters for the U.S. Army Corps of Engineers.
This "net zero capable" building in Seattle will earn an ENERGY STAR Score of 100 and is striving for LEED Platinum. It's one of the first in the region to use structural piles for geothermal heating and cooling, as well as a phase change thermal storage tank.
Two new products, chilled sails and open office lighting, were developed and manufactured specifically for this project to help achieve aggressive energy targets. To optimize the use of the available reclaimed timbers, the team designed, tested, and constructed the first wood composite beam system in the U.S.
Located on the banks of the Duwamish Waterway, it is on a superfund site, with a goal of restoring the riverbank. Rather than having to pump stormwater uphill from the site to the city's municipal storm water system, runoff is treated in storm water surface ponds, raingardens, and wet ponds, and then infiltrated.
Here are all the Top 10 Winners:
(Visited 6,129 times, 6 visits today)