The purchase of just 250 extra cars is bring Tesla Motors (Nasdaq: TSLA) over the finish line to its first quarter of profitability, says the company.
For the first quarter, Tesla will deliver 4750 Model S electric sedans, surpassed the expected 4,500 units. The car won the coveted "Car of the Year" award from Motor Trend magazine.
"I am incredibly proud of the Tesla team for their outstanding work. There have been many car startups over the past several decades, but profitability is what makes a company real. Tesla is here to stay and keep fighting for the electric car revolution," says CEO Elon Musk. "I would also like to thank our customers for their passionate support of the company and the car. Without them, we would not be here."
The company expects to sell 20,000 Model S cars this year. The base price is $59,900 with a driving range that rivals gasoline-propelled cars – 300 miles.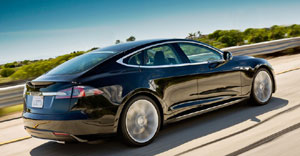 Last month, Tesla said it will repay a Department of Energy loan of $465 million by 2017.
Tesla's goal is to accelerate the world's transition to electric mobility with a full range of increasingly affordable electric cars. So far, Tesla has delivered almost 10,000 electric vehicles to customers in 31 countries. The company also manufactures EV powertrain components for automakers such as Toyota and Daimler.
Tesla is also proceeding with a plan to build a nationwide solar-powered charging network, free to its car-owners.

(Visited 4,167 times, 5 visits today)