Staples has quietly been adding solar across it locations without much fanfare.
Today, they announced they have impressive 14 megawatts (MW) in total, including the 685 kilowatt (kW) system that just turned on at its global headquarters campus in Framingham, Massachusetts.
This is Staples' 37th solar array, ranking the company #7 among Fortune 500 companies in the US for renewable energy consumption, according to the Environmental Protection Agency. It ranks #4 among retailers.
In
fact, Staples now gets 25% of its electricity in the US from renewable energy through on-site solar systems and by purchasing renewable energy certificates for 75%.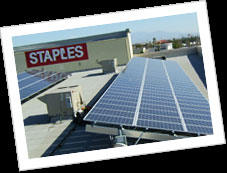 A 2.2 MW rooftop array on its London, OH facility, produces half its electricity.
For the Framingham headquarters, SunEdison installed over 2,440 solar panels on the roof of Staples 650,000 square-foot building.
Like many companies, Staples pays SunEdison for the electricity the panels produce through a long-term power purchase agreement rather than owning them.
Two locations with solar also have fuel cells from Bloom Energy – a 330,000 square- foot distribution center in Ontario, California has a 385 kW fuel cell that supplies 90% of its electricity, and a 740,000 square-foot distribution center in Rialto, CA also has one.
Renewable energy is now powering retail stores, fulfillment centers, customer service call centers and sales offices.
It was also the first retailer to offer year-round electronics recycling in its stores.
Here's Staples' Sustainability Report:
Website:
[sorry this link is no longer available]
(Visited 8,075 times, 8 visits today)