Dr. James Hansen, the world's premier climate scientist, is retiring this week as head of NASA's Goddard Institute of Space Studies, where he has served since 1967.
Although he's retiring, he's not receding. He told the NY Times that he's leaving the federal payroll to have the freedom to take government on more directly. He plans to pursue political and legal efforts to limit greenhouse gases on state, federal and international levels.
"As a government employee, you can't testify against the government," he told the NY Times. "At 72, I feel a moral obligation to step up activism in my remaining years."
He will most certainly advocate for a carbon tax, which he believes is absolutely essential to address climate change.
Like few climate scientists, Hansen is an activist, advocating for action on climate change for decades.
He identified 350 parts per million CO2 as the
safe upper limit for carbon in the atmosphere and has shown mathematically that if all the tar sands oil reserves are tapped along with the other fossil fuels humans are exploiting that it's "game over for climate." He put himself on the line – arrested at a rally against the Keystone tar sands pipeline and for protesting mountaintop coal removal. Read his NY Times editorial.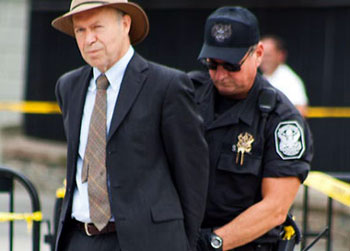 In the 1980s, he was among the first scientists to connect the dots of rising global temperatures and feedback loops, including sea level rise.
He has repeatedly called for trying the most vociferous climate-change deniers for "crimes against humanity."
He plans to lobby European leaders – who have taken the most action on climate change among the world's governments – to impose a tax on tar sands oil.
Would you file a comment against approving the pipeline as a way of thanking Jim for his lifetime of work? 350.org is shooting for a million comments as a counterweight to the enormous pressure that's likely to result in a "yes" decision on Keystone.
The latest casualties of tar sands oil are continued cleanup of the Kalamazoo River and new spills last week in Arkansas and Minnesota.
Read the NY Times article on Jim Hansen:
Website:
[sorry this link is no longer available]
(Visited 4,043 times, 22 visits today)