Sales of hybrid cars are up 32% since the start of 2013 compared to last year and have inched up from 3% of all sales to 4% in the US.
"Hybrid technology has certainly reached the inflection point, and is being taken seriously by virtually all the automakers," auto analyst Thilo Koslowski at Gartner Inc. told the LA Times.
They are ubiquitous in California, the largest car market in the US. Last year, Toyota's Prius became the bestselling vehicle, taking the long-held place of the gas-powered Honda Civic.
Even Ferrari's "biggest and baddest" supercar is a hybrid, notes the LA Times.
Indeed, hybrids are catching on for most kinds of vehicles, thanks to a wide selection of offerings. Over time, more people are appreciating the reliability and versatility of these cars, in addition to using up to 40% less gasoline. Also, carmakers are finally making the cars in large enough numbers to spur demand and bring down prices.
The sticker price for the Camry hybrid is the same as the conventional Camry.
But conventional cars are getting better mileage – many get 30 mpg and some reach 40 mpg.
So, although many expected $4 per gallon gas to be a tipping point for dramatic hybrid sales, many now see it at $5 or $6 per gallon.
"With more entries – products that are not so much a science experiment, but rather are real cars and give you the full vehicle experience – we are seeing customers select hybrids," Nancy Lee Gioia, Ford's director of global electrification, told the LA Times.
Ford Fusion C-Max hybrids have jumped to 17% of the hybrid market from 5% last year, selling 3,000 to 4,000 of each per month.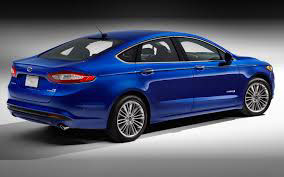 "That's what this market has needed the whole time," Caldwell said. "More exposure of consumers to cars other than just the Prius," Jessica Caldwell of Edmunds.com, told the LA Times.
For 2012, hybrids were the fastest growing segment of US automotive sales, with close to 440,000 sold. The Prius hit the big time, now the third top selling car in the world.
Read the full story:
Website:
[sorry this link is no longer available]
(Visited 4,818 times, 2 visits today)