With all the work they have in Congress (not passing laws), some have put all that extra time to good use by creating an App!
Democrats on the House Natural Resources Committee, which oversees all US energy sources, have released "eVIZ," short for Energy Visualizer.
"The effects of the way we use energy are costly to our country," says Rep. Rush Holt (D-NJ). "This app helps a citizen visualize the energy use in all states and the effects that are already occurring."
Designed to take you inside America's energy system, the app has three animated experiences: it maps US energy production and consumption; the costs of extreme weather; and a fuel economy calculator.
"As more citizens harness the power of apps and tablet devices, Congress has the opportunity and responsibility to present government data and information in a creative way," says Rep. Ed Markey (D-MA), who is currently running for Senator in Massachusetts.
By sliding your finger, you can witness decades of US energy production – including wind, solar, coal, and oil – and you can compare states to find out which are the most energy efficient.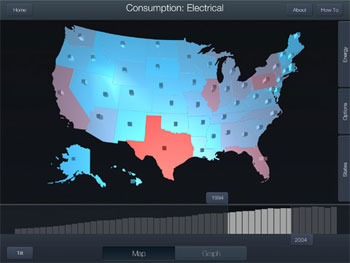 The extreme weather section maps natural disasters that cost a billion dollars or more.

And by entering a vehicle's mileage and current price for gas, people can slide along a miles per gallon chart to learn how much money they can save and pollution they can cut based on improved fuel economy.
Last year, Ranking Member Markey directed the Committee's Democratic staff to develop an iPad app that could convey information to Members, Congressional Staff, the public, and the press on energy production, consumption, and the impacts of extreme weather and climate change.
They created the app with two outside vendors, digital agency Socialbomb, Inc. and design/ engineering firm Cousins & Sears, which specializes in data visualization.
Data in the app comes from the publicly available State Energy Data System (SEDS), the source of the U.S. Energy Information Administration's (EIA) comprehensive state energy statistics.
Download this free app:
Website:
[sorry this link is no longer available]
(Visited 3,919 times, 4 visits today)