American Honda is building a house that demonstrates zero carbon living using some of its technologies, such as solar-charging for its Fit electric car and Honda's home energy management system.
The first "Honda Smart Home" was built in Japan last year and this one will be on the campus of University of California, Davis.
"This showcase for environmental innovation and renewable energy-enabling technologies demonstrates Honda's vision for sustainable, zero-carbon living and personal mobility," the company says.
"Home energy use and personal mobility account for most of an individual's carbon emissions. By addressing both sources together, we are advancing technologies that will reduce carbon and eventually transform home design," says Steve Center, vice president of the Environmental Business Development Office of American Honda.
The idea is to feature new and emerging technologies that greatly reduce the amount of energy used by individual households, including the integration of electric vehicles into the home.
In California, the home shows how the state's goal of requiring all new residential construction to be "zero net energy" by 2020 can be met.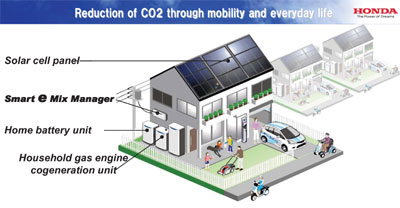 The Smart Home consumes less than half the energy of a typical comparably sized house and will produce more energy than it consumes through the solar PV system, which also charges the electric car.
Through Honda's Energy Management system, occupants will be able to control all its systems remotely and monitor and adjust all aspects of energy use in real time.
The smart-grid technology also communicates with the utility, controlling the electricity supplied from the grid and generated by each appliance. It also provides backup energy should there be an interruption in electric power.
Direct PV-to-vehicle DC battery charging substantially improves charging efficiency by reducing losses associated with DC-to-AC and AC-to-DC conversion.
UC Davis energy research centers are designing new heating and cooling solutions that make it easier to incorporate geothermal, for example, and a new circadian color control logic LED lighting system that provides better quality lighting while cutting energy consumption.
Honda says the home is being designed to achieve "top-level green building certifications" from LEED and Energy Star.
After it's finished late this year, it will be leased to individuals associated with UC Davis.
Home to the biggest planned net-zero energy residential community in the US, the University of California, Davis, topped last year's "Coolest Schools" list. The university is on track to reducing greenhouse has emissions to 1990 levels by 2020.
Honda been ranked #1 as the Greenest Automaker since 2000 and leads automakers with 11 LEED certified buildings. 10 of its 14 North American manufacturing facilities are zero-waste to landfill. Along with Toyota, Honda vechicles have the best indoor air quality of all vehicles. Last year its electric Fit took second place as the "greenest car." Last year, it started a Green Dealer program, which challenges them to reduce energy and water use, and do comprehensive recycling.
(Visited 7,556 times, 37 visits today)