What's with Mark Zuckerberg, CEO of Facebook?
Last year, after intense pressure from Greenpeace, Facebook agreed to get off coal and both use and promote renewable energy through its massive user base.
Since then, Facebook's footprint has gotten greener, choosing to site a new server farm near the Arctic Circle in Sweden to keep it "naturally cool" and in Iowa, where it can get easy access to wind energy.
Now, he's founded a PAC, FWD.US, and if you visit the website, you'll be invited to "Join to support comprehensive immigration reform." That's what is splashed across the home page.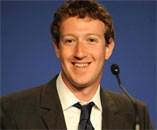 If he's so interested in immigration reform, then why is the group paying for television ads advocating approval of the Keystone tar sands pipeline and opening up the Arctic National Wildlife Refuge to oil drilling?
He couldn't have chosen two issues more dear to the environmental community's hearts.
When cell phone activist company Credo tried to run an ad on Facebook countering these points, it was banned!
FWD.US, which Zuckerberg founded with LinkedIn and others in the tech industry, has two subsidiaries, one run by veteran Republican political operatives and one led by Democratic strategists, reports ThinkProgress.
The GOP-lead group, Americans For A Conservative Direction, uses a television ad to praise Senator Lindsay Graham (R-SC) for supporting Keystone and expanded oil drilling in general. It also attacks health care reform and "wasteful stimulus spending."
Watch the Ad.
The Democratic group, Council for American Job Growth, is supposedly geared toward liberals, but it praises Senator Mark Begich (D-AK) for "working to open ANWR to drilling."
Watch the Ad.
According to Politico, the two groups are planning seven-figure ad buys.
When Facebook joined with Greenpeace, Marcy Scott Lynn from its sustainability program.said:
"Facebook looks forward to a day when our primary energy sources are renewable, and we are working with Greenpeace and others to help bring that day closer. As an important step, our data center siting policy now states a preference for access to renewable energy."
Facebook still uses more coal than renewable energy, but has quickly reached 23% of its energy from renewable sources. It's topping new headquarters with a massive green roof and is one of the first companies to offer electric vehicle charging on campus.
In a column on Salon.com, we're told not to worry, Zuckerberg really isn't trying to push fossil fuels, he just wants to get people elected who support immigration reform. Since voters in South Carolina and Alaska don't support immigration reform, where these first ads are targeted, they focus on issues they do support – tar sands oil and opening ANWR.
Hmmm… feel so much more relaxed now.
(Visited 4,495 times, 7 visits today)