Facebook will build its next mammoth data center in Iowa, at least partially because of it has so much wind energy.
Yes, the availability of renewable energy can attract companies to states now. It wants tax credits for wind production, which would require legislation.
Facebook is on track to get 25% of power from renewables by 2015 – it's at 23% now.
At 1.4 million-square-feet, the $1 billion data center will be built on 200-acres that were previously wheat and soy fields.
They will break ground on the first building this summer and begin serving user traffic in 2014.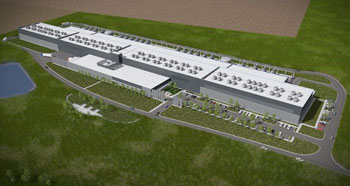 Last week, Facebook made public dashboards available that show real-time energy and water use of its data centers in Oregon and North Carolina, and it plans to do so in Sweden when that data center comes online. It's
Given the amount of energy that data centers consume, this is a great move on the part of Facebook – to "demystify data centers and share more about what operations really look like," they say. They are making the code open-source so that any organization can share this data.
Few people realize how much energy it takes to post millions of photos every day, and for the 2.7 billion Likes and 2.4 billion content items shared with friends.
Facebook is using various methods to keep its servers cool without consuming huge amounts of energy. Both the Oregon and North Carolina data centers using outside air and misting technology and the one near the Arctic Circle in Sweden is being buried below ground.
The Iowa facility will also have Open Compute Project server designs and outdoor-air cooling, and it will "incorporate evolutionary improvements to the building design, networking architecture, and more. When complete, Altoona will be among the most advanced and energy efficient facilities of its kind," says Facebook.
An entire wall will have a large air filtration and cooling system.
Facebook has a partnership with Greenpeace to push renewable energy forward in its own operations, among its vast community and throughout the IT and utility industries.
(Visited 5,990 times, 6 visits today)