ABB (NYSE: ABB), the world's leading transmission and power automation company that's been expanding into cleantech, is buying Power-One (NASDAQ: PWER), a leader in solar power inverters.
The $1 billion deal positions ABB with a core stake in what it calls the "intelligence" of solar systems.
"Solar PV is becoming a major force reshaping the future
energy mix because it is rapidly closing in on grid parity," says Joe Hogan, ABB CEO. "Power-One is a well-managed company and is highly regarded as a technology innovator focusing on the most attractive and intelligent solar PV product. The combination of Power-One and ABB is fully in line with our 2015 strategy and would create a global player with the scale."
Power inverters feed the energy created by solar systems into the grid. Power-One's technology enables the highest conversion efficiency of power from solar arrays, says ABB.
California-based Power-One makes inverters for all solar markets, from residential to utility applications, and has 3,300 employees mainly in China, Italy, the US and Slovakia. Last year, it generated $120 million in profit on sales of about $1 billion.
ABB also makes solar power inverters, expected to generate $100 million this year.
Solar inverters are one of the fastest-developing technologies in power electronics, requiring substantial research and development, says ABB.
It's main competitor, Germany's SMA Solar (S92G.DE), has a much larger market share, but has been seeing declining revenues from low-priced competition.
When asked why ABB would invest in solar during this time of tumultuous struggle on the manufacturing side, CEO Hogan told Bloomberg, "If you wait until it's very clear what the industry will look like you are not going to pay the multiples we're paying today."
ABB is paying 7.7 times Ebitda for Power-One, in contrast to the median multiple of 8.5 paid for renewable energy companies in the last three years, reports Bloomberg.
Switzerland-based ABB describes itself as "a leader in power and automation technologies that enable utility and industry customers to improve their performance while lowering environmental impact." It operates in 100 countries and employs about
145,000 people. Besides transmission systems, it's a world leader in industrial motors.
The company is a long-time leader in electric transformers, vital components in efficient transmission systems and in connecting renewable energy to the grid, and to create a smart grid.
Last year, ABB developed the world's first high-voltage direct current (HVDC) circuit breaker, which will make it possible to carry renewable energy hundreds of miles from offshore wind farms, for example, to urban centers, making the visionary Desertec project – which would carry solar energy from Africa to Europe – more likely, as well as the European SuperGrid.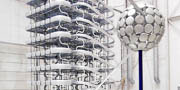 ABB has been investing widely in cleantech: Baldor, known for its efficient industrial motors; smart grid software companies Ventryx, Trilliant and Obvient Strategies; wave energy developer Aquamarine Power; electric vehicle charging companies Epyon B.V. and a stake in ECOtality; a stake in concentrating solar company Novatec Solar.
ABB is revving up an electric car charging network, saying it could be a $1 billion business by 2017.
It won a $1 billion dollar order to connect an offshore wind plant to the grid.
Here is ABB's website:
(Visited 4,445 times, 1 visits today)