As part of his decision to use his executive authority to get things done when Congress won't act, President Obama has created five new national monuments, permanently protecting several hundreds of thousands of acres of public land.
The new monuments are spread out across the country:
Rio Grande del Norte, New Mexico: 240,000 acres including the spectacular Rio Grande Gorge and Ute Mountain
San Juan Islands, Washington: 955 acres across the islands, which harbor
"some of the most pristine places in the entire world," says Senator Cantwell.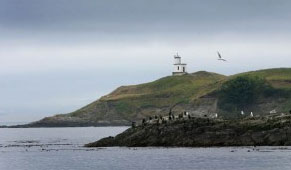 First State, Delaware: 1000 acres adjacent to Brandywine Creek State Park protect the state's colonial heritage.

Harriet Tubman Underground Railroad, Maryland: protects where Tubman was born, escaped slavery and helped lead other slaves to freedom.
Charles Young Buffalo Soldiers, Ohio: protects the former home of Colonel Charles Young, the third black to graduate from West Point and the first to achieve colonel ranking in the US Army.
The last Congress, known as the most anti-environmental in US history, did not protect even a single, new acre of land – the first Congress to hold that distinction since World War II.
The House voted against the environment 247 times in the last two years and one out of every five votes either rolled back protections for public lands, clean air, clean water, or enriched the oil industry.
Protecting these lands is crucial because the Obama Administration is opening so much federally owned public land to energy development, both fossil fuels and renewables.
During his first term, these twin goals were not balanced. While 2.6 million acres were closed off to development, 6.3 million acres were opened to oil and gas leasing.
President Obama can designate national monuments under the Antiquities Act, a 1906 law that gives presidents the power to preserve important natural, cultural and historical sites.
In his first term, Obama created four monuments: César E. Chávez National Monument and Fort Ord National Monument (California); Fort Monroe National Monument (Virginia); and Chimney Rock National Monument (Colorado).
Noting the Obama administration has protected much less land than his predecessors, former Bruce Babbitt (Interior Secretary under Pres. Clinton) is calling for him to protect one acre for every acre he opens to fossil fuels development as did Presidents GW Bush and Clinton.
In his final days, GW Bush protected 200 million acres as a marine preserve near Hawaii, more than offsetting his record of opening 7.5 acres for every acre protected, and one of the few environmental bright spots in his presidency.
US forests offset 11% of industrial greenhouse gas emissions, according to the Forest Service.
(Visited 4,365 times, 16 visits today)