You never know when one technology can be used for something else.
In this case, heliostats, those mirrors used in concentrating solar plants, might prove just as useful attached to buildings.
They maximize solar efficiency by moving along with the sun and smaller versions could be used to heat buildings as well as increase daylighting inside.
In Sydney, Australia, the $600 million One Central Park project features an impressive cantilever that extends out from a tall tower. It consists of fixed and motorized mirrored panels that capture sunlight and reflect it onto landscaped terraces, creating more green space.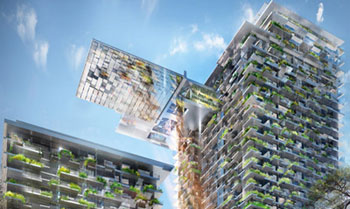 It was "meticulously and painstakingly orchestrated," Guy Pahor, CEO of Frasers Property Australia told Engineering Source. "With the weight of the reflector frame needing to perfectly counterbalance with the East tower, lifting it into place was an extremely complex process."
Another potential development would use heliostats to direct daylight between buildings.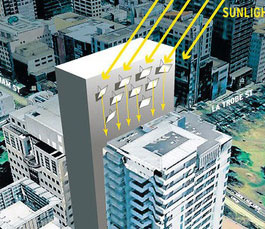 Rooftop heliostats direct light into a 12-story atrium at Genzyme's headquarters in Massachusetts, and are Puente Hills Mall in California and the historic Reichstag building in Berlin, reports Engineering Source.
In the future, small heliostats on the roof could be used like a concentrating solar tower, which directs the sun to heat and cool the building or provide sunlight to produce food inside.
Engineers are working on using fewer, lighter materials for heliostats to make them suitable for these applications at cost-effective prices.
Read the full article:
(Visited 12,811 times, 135 visits today)