Google is expanding its already massive headquarters by over a million square feet and one of the new design elements is a green roof.
Working with Seattle-based design firm, NBBJ, the 42 acre expansion will be double the size of its 65-building headquarters in Mountain View, California. This is the company's first foray into new construction. So far "Googleplex" has been designed by retrofitting existing buildings.
The new design, dubbed Bay View, consists of nine similarly-shaped buildings, mostly 4-stories high, that look like bent rectangles. They are connected by bridges and verdant courtyards and paths that snake through the property. One of the bridges leads to one of several green roofs which also has an outdoor café.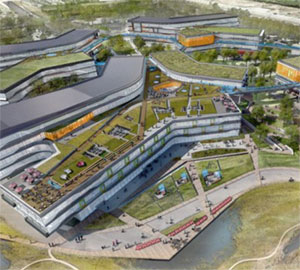 Another important design element is the use of radiant heating throughout – the largest of its kind in the US.
Other than that, we haven't seen details about the design – only that they plan to incorporate innovative materials that foster sustainability.
The design is based on encouraging employee interaction, what they call a "casual collision of the workforce."
But Google is known for making green design an integral part of its operations, from 2 megawatts of solar on rooftops to serving locally grown, organic food in the cafeteria. It offers a free car-sharing program to employees through a partnership with Enterprise Rent-A-Car, gives employees a $5000 rebate when they purchase hybrids, and runs the largest corporate commuter shuttle program in the U.S. It's also got 300 electric vehicle charging stations, way more than any workplace in the country.
(Visited 9,618 times, 30 visits today)