Who would guess that Walgreens, the largest US drugstore chain, would become an environmental leader?
We're very happy to see they are taking sustainability seriously, which is evident from a range of initiatives, detailed below.
In its first experiment in net-zero stores, Walgreens is combining several clean energy technologies, which it plans plans to extend to many of its 8000 stores.
The first net-zero store, in Evanston, Illiniois, will get renewable energy from solar, wind and geothermal, along with extremely efficient refrigerators, LED lights and green building materials.
"We are committed to reducing our carbon footprint and leading the retail industry in use of green technology," says Thomas Connolly, vice president of facilities development for Walgreens. "We are investing in developing a net-zero store so we can learn the best way to bring these features to our other stores. Because we operate 8,000 stores, we believe our pursuit of green technology can have a significant positive impact on the nation's environment."
Nice!! Look closely and you'll see this store is on Lake Michigan, giving it plenty of wind. You can see the vertical turbine in front of its name. All it needs to round out this interesting design is the use of native plants instead of all that flat, ugly lawn. Hopefully, they're using permeable pavement.

Once the store is built, engineers will test its performance for a year to see if it meets the net-zero energy goal. They expect the store to consume 200,000 kilowatt hours (kWh) a year of electricity and generate 256,000 kWh a year.
Walgreens is shooting for LEED-Platinum certification and plans to enter the Living Building Challenge. They are participating in the Department of Energy's Better Buildings Challenge, which commits them to reducing energy 20% across the chain by 2020.
Here's how this first store will use 40% less energy than conventional stores and generate all the energy it uses on-site:
more than 800 solar panels on the roof
two vertical wind turbines
geothermal cooling and heating
LED lighting and daylighting
carbon dioxide refrigerant for heating, cooling and refrigeration equipment
energy efficient building materials
This first store is replacing an old Walgreens store, which is currently being demolished. The new store should open in November, and will also have bike racks, a bike repair station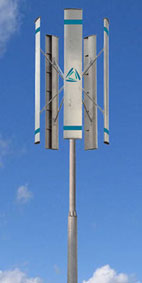 and a place to charge electric cars.
Some of the vendors are: Trane, CREE Lighting, Acuity Lighting, Cooper Lighting, CalStar Products, GE Lighting, Geothermal International, SoCore Energy, Wing Power and Camburas and Theodore Architects.
This will be the third LEED-certified store for Walgreens. 150 stores use solar, one store runs on geothermal energy and a distribution center in Texas uses wind energy. More than 5000 stores have energy managment systems and use LEDs for cooler and freezer lighting. 15 distribution centers have achieved net zero waste. It was one of the first to install electric vehicle charging stations and now 400 stores have them.
In terms of its products, Walgreens is launching a private label green products line that spans more than two dozen personal care and household cleaning products. It is also incorporating organic foods and wellness programs in stores, morphing into "wellness" centers that help people stay healthy. It recently came in third for selling the safest cosmetics in stores.
(Visited 6,452 times, 3 visits today)