Not that it's anything to be particularly proud of, but the average fuel efficiency of cars and light trucks hit their highest levels ever for 2012 model year vehicles.
On average, the 2012 fleet gets a puny 23.8 miles per gallon (mpg), according to the US Environmental Protection Agency (EPA), a 1.4 mpg improvement over 2011.
But that's the biggest gain in a single year since the EPA has been keeping records.
"This report shows the great strides automakers have made to deliver a better kind of car for the American people in 2012, but it also shows just how far they have to go," says the Union of Concerned Scientists.
Because of the agreement between President Obama and the auto industry, US cars and light trucks must average 35.5 mpg by 2016 and 54.5 mpg by 2025.
Model year 2012 cars and light-duty trucks also spew less carbon emissions on average – 374 grams of carbon per mile driven, down from 398 grams for the 2011 model year.
Since the 2007 model year, vehicles in the US get 13% better fuel economy and produce 16% less carbon emissions.
Toyota's Prius C is the greenest car of 2012, the smallest car in the new Prius family.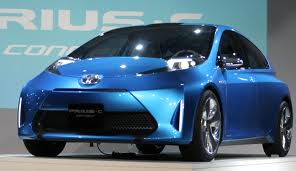 As is often the case, Honda led on fuel economy, averaging 26.4 mpg, followed by Volkswagen at 26.2 mpg and Mazda at 25.9 mpg. Ford led among US manufacturers at 23.2 mpg, up from 21.1 mpg for 2011 models.
It's harder for US fleets to significantly raise fuel economy because they sell more gas guzzlers – large SUVs and pickup trucks.
In fact, the new fuel economy rules include the SUV loophole – it allows automakers to raise the fuel efficiency of light trucks – which conveniently include SUVs – much more slowly than for cars.
54 models of SUVs, pickups and vans get 20 mpg or more, up from 38 models in 2007. In 2012, 15 cars got 40 mpg or better, up from just 2 in 2007.
The gains come mostly from improved technologies, such as variable valve timing and multi-valves in engines. Although they were developed some 20 years ago, they are finally being used in vehicles – about 90% of 2012 model year vehicles have it.
Also in 75% of 2012 model year cars are transmissions with 6 or more speeds and continuously variable transmissions.
Gasoline direct injection systems are replacing conventional fuel injection systems; they're in about 24% of 2012 model year cars.
Here's EPA's list of the most fuel efficient vehicles for the 2013 model year:
Website:
[sorry this link is no longer available]
(Visited 5,388 times, 7 visits today)