Back in the early days of car manufacturing, electric cars (EV) were the vehicle of choice and a company called Detroit Electric flourished – and now it's back.
In the early 1900s, people preferred electric cars over gas-fueled ones because they were quiet, more reliable and easy to maintain. Their limited driving range wasn't an issue.
Detroit Electric was the market leader, selling EVs to people like Thomas Edison, Mamie Eisenhower, John D. Rockerfeller Jr. and Clara Ford, the wife of Henry Ford.
But then, because of improvements to the internal combustion engine, the tide turned against EVs and Detroit Electric disappeared for 70 years.
Since 2008, Albert Lam, a former head of Lotus Cars, has been reviving the brand and now it's returned to Detroit.
Production starts this August of a limited edition electric 2-seater sportscar, with the aim of selling 2500 a year.
It's "certain to quicken pulses thanks to its bold styling, outstanding performance, exhilarating handling characteristics and impressive range," they company says.
We don't know what it will look like yet, but definitely not like this!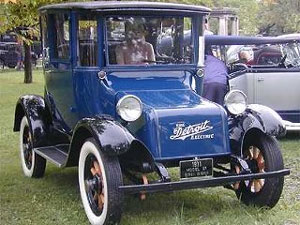 It will be unveiled at the Shanghai Auto Show next month, where it will "share an exciting announcement about a major partnership with a global carmaker," and on sale in target markets by the end of August.
After that, the company has plans for two other high-performance models that begin production by the end of 2014 as well as a family of electric cars.
Detroit Electric is using an 'asset light' business model, similar to those of Apple and Nike, focusing investment on R&D and marketing. Albert Lam also headed technology and innovation-driven businesses in Asia, including Apple and Sun Microsystems.
(Visited 4,443 times, 8 visits today)