In a testament to how quickly things can change if the will is there, Apple has suddenly gone from being a laggard on clean energy to a leader.
Apple announced that all its data centers now run solely on renewable energy and is on track to power the company as a whole on renewables, from 75% today.
That's a remarkable increase, given that corporate buildings ran on just 35% renewables in 2010. "We won't stop working until we achieve 100% throughout Apple," the company says in its Environmental Report.
Last year, Apple added biogas-powered fuel cells and solar PV at its Cupertino headquarters, while also reducing energy consumption by 30% from the previous year.
The spectacular spaceship design for a new headquarters campus there includes a 5 MW solar system. "I want to leave a signature campus that expresses the values of the company for generations," said Steve Jobs.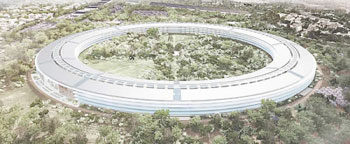 Apple has data centers in: Maiden, North Carolina; Austin, Texas; Cork, Ireland; and Munich, Germany, and others are planned for Prineville, Oregon and Newark, California.
In Maiden, North Carolina, Apple has completed the biggest corporate-owned solar PV (25 MW) and fuel cell system (10 MW), which are now supplying 60% of the energy for the $1 billion LEED-Platinum data center, its largest yet. Apple is purchasing renewable energy from nearby facilities to make up the rest.
The data center has a white, cool roof:

Because of higher sales, Apple's overall carbon footprint increased last year even though its carbon emissions per dollar of revenue has dropped 21.5% from 2008-2012.
Climate Counts gave it a mediocre rating for its lack of attention to measuring and disclosing emissions.
For years, Apple has been on the bottom of Greenpeace's ranking on energy use in the industry, but it moved up for its major commitment to renewables in Maiden, NC. In A Clean Energy Road Map for Apple, Greenpeace congratulates them for big improvements, but still gives them poor grades when compared with industry peers, such as Dell, Google, Facebook and Akamai.
Apple still doesn't make the list at all on Greenpeace's ranking of the world's greenest electronics companies, which considers corporate emissions, energy efficiency of products, and hazardous materials used in products.
Apple says only 2% of total greenhouse gas emissions comes from corporate facilities. The vast majority is produced by manufacturing, transporting and use of its products made in the now infamous Foxconn in China.
After stinging criticism on its supply chain in China, Apple announced it would spend $100 million to manufacture Macintosh computers in the US, but that product line is a tiny portion of revenue.
Read Apple's report on its environmental progress:
Website:
[sorry this link is no longer available]
(Visited 8,301 times, 80 visits today)