A decorative façade on a Mexico City hospital will be the first to be made of a material that absorbs pollutants from the air.
The 100-meter long curved screen on the building, Torre de Especialidadesis, is made of Depolluting Quasicrystals – how's that for futuristic?
The 3D architectural tiles are designed to reduce air pollution when they're installed near busy traffic arteries or on building facades.
The hospital, on a busy street in Mexico City, is getting the façade through Ministry of Health funding that's part of a 3-year, $20 billion investment in health infrastructure in Mexico.
The hospital chose the tiles, called Prosolve370e, for their ability to clean the air and for their visually appealing forms.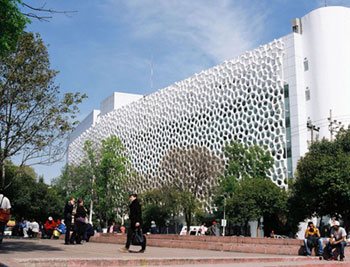 A superfine titanium dioxide (TiO2) coats the tiles, and when activated by ambient daylight, they break down nitrous oxides and volatile organic chemicals – byproducts of automobile emissions – effectively neutralizing them.
"This is the nano-photocatalytic version of conventional TiO2 commonly used as pigment and already known for its self-cleaning and germicidal qualities. It requires only small amounts of naturally occurring UV light and humidity to effectively reduce air pollutants into harmless amounts of carbon dioxide and water," says Elegant Embellishments, the Berlin-based manufacturer of Prosolve.
The shapes of the tiles are also important. Their random, omni-directional shapes attract pollutants from all directions, enhancing their ability to receive and scatter UV light," co-founder Allison Dring explained to Fast Company. "The shapes slow wind speeds and create turbulence, for better distribution of pollutants across the active surfaces. The omni-directionality of the quasicrystalline geometry is especially suitable to catch things from all directions."
Learn more about Prosolve:
Website:
[sorry this link is no longer available]
(Visited 15,163 times, 23 visits today)