When UPS finishes its third rooftop solar system in New Jersey, an impressive 2.8 megawatts (MW) of solar will be powering its distribution facilities there.
A 1.2 MW project has been operating in Parsippany since last fall and another 1.2 MW system comes online in Secaucus this spring. There's also a 250 kilowatt system on the roof of the Lakewood distribution facility, completed a couple of years ago.
Rather than outsourcing these projects to solar developers and simply paying for the electricity as many companies do, UPS does it all itself to get the highest return on investment.
They say they've created a viable business model by developing, engineering, purchasing, overseeing construction, and operating the solar panel arrays in-house. That's because of the steep fall in solar panel prices and supportive government incentives.
New Jersey has one of the nation's most progressive solar energy policies and because of that it ranks second in total installed solar in the US.
Since these facilities usually operate during off-peak hours, they can sell much of the solar-generated electricity back to the grid.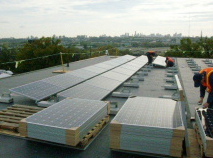 In California, UPS announced that 100 electric commercial vehicles will soon deliver packages around the state. The trucks have a range of 75 miles and were built in-state by Electric Vehicles International. They will cut gasoline use by 126,000 gallons a year.
The company now has over 2,500 alternative fuel vehicles, including hybrids, electric and natural gas (still a small minority of their 91,000 vehicles). They also used small, but important steps in driving habits to increase efficiency.

UPS was one of the highest ranked companies in the 2012 Climate Counts ranking, getting 89 out of a possible 100 points.
Read UPS's sustainability report:
Website:
[sorry this link is no longer available]
(Visited 4,896 times, 2 visits today)