As countries around the world focus more on offshore wind, scientists are working on next-generation turbines that float rather than having to be anchored into the sea bed.
Having to anchor them to withstand extreme winds or rough seas limits offshore turbines to being sited in water no deeper than about 165 feet (50 meters).
But if wind turbines can float, they can be installed in water up to 2,300 feet deep. "Many countries all over the world have steeply sloping coast," says Frank Sandner, an engineer at the University of Stuttgart. "Floating wind turbines are the only chance to utilize the wind energy out on the ocean."
A $120 million demonstration project starts this year off the coast of Maine – the first test for floating turbines in the US. They will ride on the surface of the water and simply be tethered to the ocean floor.
Four, 3-megawatt (MW) turbines will be deployed two miles off Boothbay Harbor in the Gulf of Maine. Norwegian energy company Statoil is developing the project using Hywind turbines similar to those used in its home country since 2009.
Hywind turbines have exceeded expectations, performing well in 50-foot waves and hurricane-force winds.
Wind turbines sit on giant, bottle-shaped buoys – the tower with rotor blades sits tall above the water's surface and the body floats deep below, weighed down by a cement ballast and tethered to the ocean floor.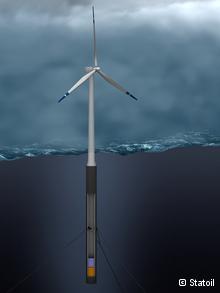 The Department of Energy (DOE) gave a $4 million grant to both Statoil and the University of Maine for the project, because their partnership it's likely to improve performance of offshore wind technologies.
"This is an opportunity for many Maine companies to develop cutting-edge expertise on energy projects not just in Maine but around the world," says State Senator Troy Jackson, who serves on Maine's Energy, Utilities and Technology Committee.
Maine has local manufacturer that will receive contracts to help build the array and a consortium of companies, the Maine Wind Industry Initiative, will provide expertise. A lab at the University of Maine is devoted to advancing these technologies.
Floating Wind Farms Take Many Shapes
Although Statoil's Hywind design is the most advanced, scientists are looking at other options for floating wind farms.
An alternative being designed by Sweden's Hexicon uses a massive pontoon that's a quarter mile long and can support 24, 3 MW turbines – for a total generating capacity of 72 MW. It would be a floating wind park with its own power station.
Another model, the "Windfloat," has a triangular base with three corner floating pontoons, forming a "floating island" that supports turbines from 3 MW to 10 MW in size. One has already been installed off the coast of Portugal.
Watch the video below for a Windfloat demonstration:
Floating turbines cost less to install than conventional tower-based designs. They can be assembled onshore and then towed out to the installation site, eliminating the expensive and arduous process of building them out in the open ocean.
On the flip side, the huge amount of steel needed to make turbines sturdy and heavy enough to withstand rough waves is too expensive. Engineers are working on solutions to get around that, such as intelligent systems that pump ballast water from one tank to the next as a way to stabilize turbines.
One thing that's clear is the need for specialized turbine blades that can produce energy even as they rock and tilt on ocean waves. All that motion means more wear and tear and can also interfere with power generation.
For now, all these designs are performing well, the question is more about which can be produced reliably at the lowest cost.
Japan approved the world's first floating wind farm last year for three floating turbines of 4 MW each. It's scheduled to come online in early 2016.
Read more about floating wind turbine designs:
Website:
[sorry this link is no longer available]
(Visited 25,188 times, 67 visits today)