Will there be an end to this tar sands thing?
The biggest protest yet against TransCanada's tar sands pipeline happens February 17 in Washington DC, and across the environmental community, fingers are crossed that President Obama will reject it.
But while everyone's looking at TransCanada's plans, another player is quietly building plans for an extensive pipeline network, hoping no one will notice.
Enbridge is quietly amassing a network of pipelines that can move over a million barrels of toxic tar sands every day, notes Edmonton Journal, way more than the 830,000 barrels that would gush through Transcanada's XL pipeline.
"Over the next three years we're investing $15 billion in three initiatives that can provide additional markets for about one million barrels of Alberta production. And that is in addition to all the regional pipeline development we're undertaking in the oilsands and elsewhere," the company says.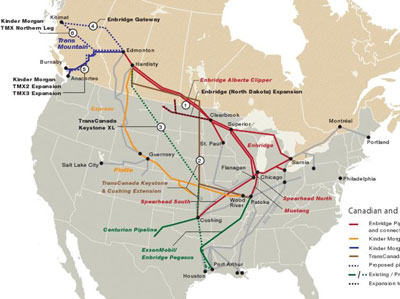 (Visited 8,650 times, 57 visits today)