In the face of rapid urbanization and environmental degradation, China is scrambling for sustainable urban development solutions.
The country, which is known for building huge cities from scratch, has ambitious plans for 100 model eco-cities, 200 model counties, 1,000 model districts and 10,000 model towns – all by 2015, reports Xinhua, China's official news agency.
Although they have varying designs, there are common elements: stringent green building codes, an emphasis on energy and resource-efficiency and walkable communities. They are designed to be widely replicated and scalable.
So far, Tianjin Eco-city has made the most progress. It is rising on 11.6 square miles of nonarable land, virtually uninhabitable just five years ago. The site consisted of barren land and polluted water-bodies, including a huge wastewater pond.
The port city, just outside of bustling Tianjin and less than an hour from Beijing by high speed rail, is a cooperative project with the government of Singapore. The collaboration is a move toward a global approach to ecological planning.
It boasts some of China's strictest energy efficiency and green building standards. While rare elsewhere in China, all residential buildings face south, have energy management controls, thick insulation and double-glazed windows.
Half the city's water will come from rain harvesting and a quarter of its energy from solar and wind. Geothermal powers its first school. There are solar-powered streetlights and all apartments run on solar hot water.
A pneumatic municipal waste collection system will eliminate the need for garbage trucks and General Motors plans to test driverless Electric Networked-Vehicle cars.
A green spine, dubbed "eco valley" runs through the heart of the city with bicycle routes and a tram, while constructed wetlands clean the polluted water and attract wildlife. More than 2,000 people live there and 5,000 apartments have been sold. The goal is for 350,000 people to live there when it's completed in 2020.
Plans also include a hub for green businesses and creative industries, and 600 companies have already set up shop.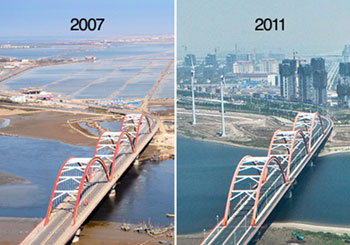 While it's still early for criticism, the biggest blunder is the lack of human scale design, so important for walkable, bikable communities. "While many of the city's tall slimmer buildings are clustered together to increase walkability, giant blocks are about four times the size of a typical block in Manhattan and make pedestrian and bike journeys cumbersome, Arish Dastur, an urban specialist at the World Bank, told the NY Times.
Although the goal is for 90% of travel within city limits to be on foot, bike and public transportation, the wide roads discourage that.
But China will move 350 million people to cities over the next 20 years and "This is one model," says Baeumler. "There are others out there. Let's look at them, take stock, and take it from there."
Japan is also pursuing sustainable cities and a world-wide certification for sustainable cities has launched.
(Visited 6,852 times, 6 visits today)