BrightSource Energy has pulled back on one of its biggest planned projects because of extended and expensive permitting delays.
The 500 megawatt (MW) Rio Mesa project – due to begin construction this year – consists of two 250 MW concentrating solar tower plants spread over 4,000 acres in Riverside County, California.
When Brightsource learned that still more studies were needed after over a year of reviews, it decided Rio wouldn't be commercially viable right now. The company would have to conduct bird and bat surveys, more environmental impact assessments on water and endangered species, as well as archaeological studies. Fossils from the Ice Age were unearthed last year, which indicated the need for a paleontological resources study.
In addition, the California Public Utilities Commission (CPUC)denied the power purchase agreement for one of the 250 MW projects because of its high cost. Without energy storage, the costs didn't compare favorably with other projects. CPUC has indicated that energy storage may be required for future approvals.
"The [Rio Mesa 1 and 2] projects compared poorly on price and value relative to other solar thermal projects offered to Southern California Edison (SCE) at the time the amended and restated PPAs were being negotiated and executed. SCE had the option to choose from 18 of 19 solar thermal projects totaling over 2,300 MW in combined capacity resulting from its 2011 RPS Solicitation that were all materially higher in value than the Rio Mesa 1 and Rio Mesa 2 projects," said CPUC in rejecting the contract.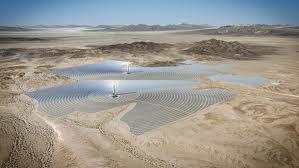 In more recent projects, Brightsource does use solar tower technology with energy storage.
Rio Mesa has also faced numerous challenges from environmental groups, regarding potentially adverse effects on birds, bats and insects that would fly through its path.
Although the company says it may reconsider its decision in the future, for now it's focused on two other similar projects that are further along. The nearby 500 MW Palen Solar Power plant, which it bought from now-bankrupt Solar Trust of America, is close to receiving final permits because of its location in a Solar Zone.
It is also close to completing the 377 MW Ivanpah plant in the Mojave desert.
In October, Brightsource raised another round of equity capital, $80 million, bringing its total to about $615 million, enabling it to expand around the world.
(Visited 3,946 times, 6 visits today)