Imagine for a moment the forests of Indonesia, buzzing with the sounds not of bulldozers, but with birds, and other wildlife that call them home.
That's what Greenpeace said today as it announced that one of the biggest rainforest plunderers, Asia Pulp & Paper, has finally agreed to conserve forests.
After more than 10 years of campaigning against the company, one of the world's largest producers of paper and packaging, it agreed to immediately halt any further deforestation and develop a comprehensive forest conservation policy. It also agreed to recognize indigenous and local community rights to land.
Indonesia hosts the third largest expanse of tropical forest, home to iconic species like the Sumatran tiger, of which only 400 animals remain, and highly endangered orangutans.
For throwaway paper products, that biodiversity is being destroyed and in the process, the country has become the third biggest emitter of greenhouse gas emissions, just behind China and the US. 2.5 million acres a year are clearcut, releasing more carbon than all the cars, trucks, planes and ships in the US combined.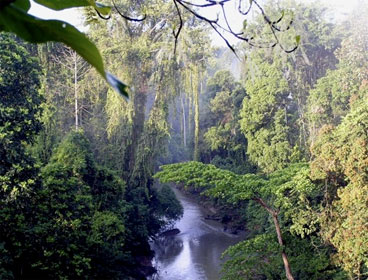 Along with the palm oil industry, the pulp and paper industry is the leading cause of deforestation in Indonesia, according to the government.
Over the past few years, Asia Pulp has been under increasing pressure as over 100 companies halted their contracts with them and introduced policies that remove deforestation from their supply chains. Those companies include Disney, Mattel, Hasboro, Lego, Adidas, Gucci, Tiffany, Levi Strauss, Kraft, Nestlé, Carrefour, Staples, Office Depot, Unilever and Krogers.
A long list of publshers have signed on: Scholastic, Hachette, Simon & Schuster, Pearson/Penguin, Candlewick Press, Houghton Mifflin Harcourt, Macmillan and Random House.
Asia Pulp is expanding rapidly into the US and Canada, under brand names like Eagle Ridge Paper, Global Paper Solutions Inc., Solaris Paper and Mercury Paper.
Asia Pulp agreed to:
an immediate moratorium on clearing forests and peat lands while conservation and carbon values are assessed.
protect all forest lands across its supply chain
begin a policy-making process to resolve and avoid social conflicts
independent monitoring of its progress.
But will they follow through?
"Though we welcome APP's new rainforest commitments as a milestone, the hidden story here is the controversial paper giant's long history of broken promises, land conflicts and human rights violations across its operations," says Lafcadio Cortesi, Asia Director for Rainforest Action Network, which has also been actively in the campaign. "APP will not be seen as a responsible company in the marketplace until its new commitments are implemented and resolve the devastating rainforest and human rights crises it has caused in Indonesia."
In 2004, for example, APP promised to protect High Conservation Value Forests and reach "full sustainability" as part of a legally binding $6 billion debt "Master Restructuring Agreement" with financial institutions and Export Credit Agencies. As of March 2012, APP remains in gross violation of this agreement.
Government Moratorium Ending
Asia Pulp's commitment comes at a crucial time, since Indonesia's two-year moratorium on deforestation expires in May.
"We urge Indonesia's government to use the momentum of Asia Pulp's (APP) move to strengthen and extend the moratorium, starting with a review of all existing forest concessions. As a matter of urgency, the government should improve enforcement of forestry laws to help companies like APP implement their conservation policies. Only concerted action from government, industry and Indonesian civil society can finally turn the tide of extinction facing Sumatra's tigers," says Bustar Maitar, who heads Greenpeace's Forest Campaign in Indonesia.
Asia Pulp is part of the Sinar Mas group, one of just two global pulp and paper producers in Indonesia that relies on rainforests fibre for its products.
The other company is APRIL (Asia Pacific Resources International), Indonesia's second-largest pulp and paper producer, which is also under pressure to make similar commitments.
The US has pledged over $600 million for Indonesia's "green prosperity" program as part of a billion dollar commitment to reduce deforestation worldwide. The funds are intended to spark economic development through clean energy and sustainable management of Indonesia's natural resources, which will reduce both poverty and emissions.
Since then, Indonesia has implement feed-in tariffs for geothermal and solar projects.
In December, Indonesia decided to pursue carbon credits as a way to preserve its forests, setting aside 200,000 acres of forest and peat marshes in the Rimba Raya Biodiversity Reserve to protect it from clearcutting for palm oil plantations.
Read more about Asia Pulp, The Most Destructive Company in the World:
Website:
[sorry this link is no longer available]
(Visited 18,812 times, 13 visits today)