A new arena being built by the Superbowl-bound San Francisco 49ers will be LEED-certified and net-zero energy.
The $1.2 billion Santa Clara Stadium, scheduled to open in 2014, will feature 400 kilowatts of solar capacity designed in unique ways.
As fans walk over three bridges that connect the parking lot to the stadium, they will see solar panels overhead. A 27,000 square foot green roof on top of the luxury suites will also be covered by a solar canopy as will the team's training center.
That amount of solar will be enough to completely supply the electricity for home games at the 68,500-seat stadium.
Other green building design elements include public transit access, bicycle parking, a walking path into the venue, water-conserving plumbing fixtures, and recycled materials used in construction.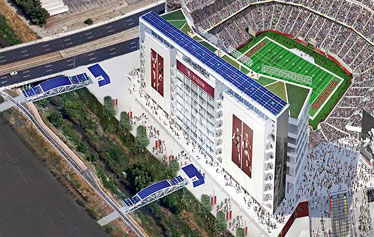 The San Francisco 49ers are members of the Green Sports Alliance, which is working to green professional sports teams through improvements to stadiums and arenas and business operations.
In 2010, the major professional sports leagues collectively began encouraging the use of renewables in arenas and stadiums across the US, and the Green Sports Alliance formed last year.
Other notable football stadiums are home to the Philadelphia Eagles, which has wind and 3.2 MW of solar, producing six times the energy it needs; the Washington Redskins 2 MW solar array; and the Seattle Seahawks. A new stadium in Texas is LEED-Platinum.
Here are the five most energy efficient stadiums:
Website:
[sorry this link is no longer available]
(Visited 7,719 times, 9 visits today)