In 2015, two villages in Norway will be linked across the fjord that separates them by an electric ferry that takes just 10 minutes to recharge.
The 262-foot-long vessel will carry up to 120 cars and 360 passengers between Lavik and Oppedal, replacing a ferry that uses 264,000 gallons of diesel fuel a year, emitting 2,680 metric tons of carbon.
Massive batteries installed at each end of the route will be used to charge the ferry's motors in less than 10 minutes during its turnaround. Those batteries are, in turn, recharged slowly from the local electric grid.
Designed by Siemens and Norwegian shipyard Fjellstrand, the ferry is a catamaran that weight half that of a conventional counterpart.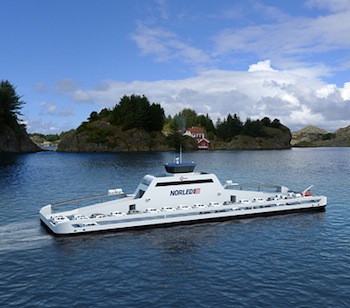 That's because its two hulls are made from aluminum, which besides making it much lighter, also creates less resistance as it travels through water. The weight is in the batteries, which power the boat's electric motors at a weight of 10 metric tons.
The engines have a combined output of 800 kilowatts, more than enough to handle typical cruising speeds of 10 knots in normal weather conditions.
Eventually, the design could replace hundreds of ferries that travel from Norway's mainland to islands off the coast. Most of these crossings take less than 30 minutes, making them idea for electric power.
(Visited 4,343 times, 7 visits today)