Plans are underway for the first leg of the Atlantic Wind Connection, the transmission line that would bring energy from offshore wind to the mid-atlantic states.
Developers have zeroed in on New Jersey for the first leg, where a 189-mile segment would run from Jersey City to south of Atlantic City. The cost is expected to be $1.3 billion, and it would have benefits beyond carrying wind energy.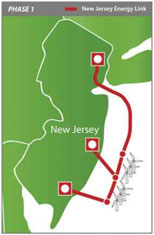 Besides serving as a crucial transmission line that opens the Atlantic ocean to offshore wind farms, it would connect those wind farms to eachother, so they wouldn't have to build transmission lines for each.
But since Hurricane Sandy, developers see yet another benefit. Since the line would be buried it would be impervious to storms, providing an important new emergency power source during future storms.
"The NJ Energy Link can make the grid more reliable and lower the cost of energy in New Jersey by delivering both offshore wind and conventional electricity to where it is needed and when it is needed along the coast, whether that be southern, central or northern New Jersey," says Robert Mitchell, CEO of the Atlantic Wind Connection.
This first leg is half of the 350-mile project, and would extend 12-14 miles into the ocean.
Developers chose to site it solely in New Jersey because it eliminates the red tape of dealing with multiple states. Importantly, the state requires renewables to supply 22.5% of electricity by 2021 under its Renewable Portfolio Standard, and since there are few places for onshore wind, much of that is expected to come from offshore wind.
Atlantic Wind Connection hopes to clear regulatory approvals by 2015 and begin construction that year. It would be built in three phases, with the first coming online in 2019 and carrying 3000 megawatts of electricity.
That would bring 20,000 jobs to New Jersey and $2.2 billion in taxes, adding up to $9 billion in economic value to the state, concludes an IHS Global Insight study.
New Jersey has to submit a request to the regional grid operator, PJM Interconnection, which would evaluate how it would affect electricity prices. Once PJM establishes the economic value, a fee would be added to customer bills to pay for the line.
In 2011, FERC approved the Atlantic Wind Connection, contingent on PJM's go-ahead. Construction was originally supposed to begin this year.
It's expected to lower energy prices in New Jersey because by improving the flow of electricity it minimizes peaks that cause high prices. And it will make the energy from future offshore wind farms more reliable by creating a "super highway for wind farms."
(Visited 5,786 times, 6 visits today)