One of the green concept homes showcased at the Department of Energy's 2011 Solar Decathlon now has a permanent address in Washington, DC.
Not only is this the first time a Solar Decathlon design has graduated into real-world use, but Empowerhouse is the first home in the US capital built to passive house standards.
Considered to be the most advanced standard for residential energy efficiency, the design cuts heating and cooling consumption up to 90%. There are only a few dozen passive homes in the US and over 1000 in Europe.
Solar Decathlon is a bi-annual competition that challenges college students from around the world to design, build and operate solar-powered houses that are affordable, highly energy efficient, attractive, and easy to live in.
Empowerhouse had one of the smallest solar arrays in the competition because it requires so little energy. To heat and cool the house, only the power to run a hair dryer is needed!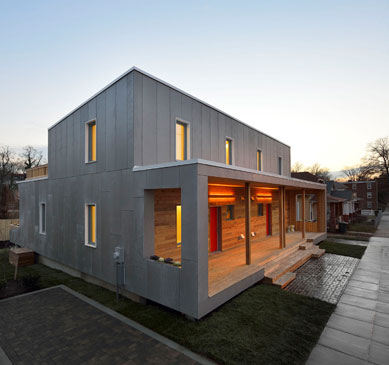 The design is based on several net-zero energy systems that reach peak efficiency when they are joined together.
A rainwater harvesting system captures water from the roof and adjacent land, minimizing the water that drains into public sewers. It features a roof garden and vegetable window boxes.
The design won the Solar Decathlon's first Affordability contest.
Empowerhouse was designed and constructed by a team of more than 200 graduate and undergraduate students from The New School and Stevens Institute of Technology. They worked with Habitat for Humanity of Washington, D.C. (DC Habitat), and the DC Department of Housing and Community Development to move the original design to Washington's Deanwood neighborhood and expand it into a two-family home.
Deanwood is a primarily working-class, African-American community that is known as one of the greenest areas in Washington, DC. The community recently participated in CarbonFree DC's "Extreme Green Neighborhood Makeover," which retrofitted low and moderate-income homes.
Six townhomes inspired by the Empowerhouse design are planned for Washington's Ivy City community, and the team is also building a home in Philadelphia with the Habitat organization there.
"This project has given students an extraordinary opportunity to address first-hand one of the most pressing problems facing the world today – affordable, sustainable housing supported by alternative energy," says Dr. Michael Bruno, dean of Stevens Institute's school of engineering. "The team has set itself apart by designing a house that is not only net energy neutral but also requires low energy consumption to operate – a welcomed feature for the Washington, D.C. family that will be living there."
Washington, DC, was recently named by the EPA as the largest green power community in the US with more than 11% of its electricity supplied by green sources.
Through its SustainableDC strategy, the US capital has adopted a number ambitious sustainability goals – including a plan to achieve zero waste and bring locally grown food to 75% of the population by 2020.
Background on the Solar Decathlon.
For more information about Empowerhouse:
Website:
[sorry this link is no longer available]
(Visited 7,795 times, 3 visits today)