After switching on its biggest solar system yet, Kohl's Department Stores (NYSE: KSS) has a total of 40 megawatts (MW) of solar capacity, impressive by any standard.
Kohl's is the third biggest host of rooftop solar installations in North America behind Walmart and Costco.
This latest solar array, its sixth in Maryland, is 2.4 megawatts and sits on the roof of a million-square-foot fulfillment center in Edgewater, Maryland. 8,360 solar panels will supply more than 40% of the building's electricity.
This solar system more than doubles the output of its next-largest array, a 1 MW rooftop system at a San Bernardino, California distribution center.
By the end of this year, Kohl's will have solar at 150 locations in 13 states, up from 20 locations last year.
Through on-site solar, two wind farms and purchasing renewable energy credits, Kohl's uses 100% renewable energy. It also has over 700 Energy Star-certified locations – more than half of the company's stores – with a goal of achieving 800 labeled locations by 2015.
The logistics facility, which manages shipments for the retailer's e-commerce operations, has also earned LEED-Gold certification.
Since 2008, when its first building was LEED certified, Kohl's committed to getting all new buildings certified. It has since earned LEED-Gold certification on volume prototypes for new and existing stores, resulting in more than 300 LEED-certified locations from coast to coast. The company has 1,146 stores in 49 states.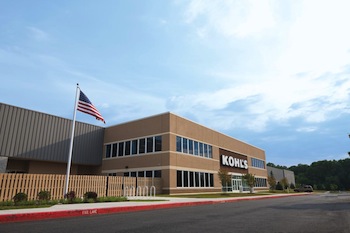 "We worked with experts internally and externally to maximize the sustainable aspects of this site, which ranged from expanding onto and retrofitting an existing building structure to addressing the nature of the distribution center as an industrial, round-the-clock facility with different operational considerations than what our stores may have. We are very pleased with the results and look forward to carrying forward what we have learned into future building and LEED projects," says John Worthington, Kohl's chief administrative officer.
The building is 46% more efficient than comparable conventional structures and include these features:
Building Design and Construction
Kept 95% of construction waste out of landfills.
32% of building materials by cost have recycled content.
43% of building materials by cost were regionally manufactured or harvested from within 500 miles of the site.
Stringent construction indoor air quality management plan is used in all new construction projects, reducing air quality issues related to construction and protecting it for future building occupants. The IAQ plan requires contractors to shut down air handling systems during activities with air quality impacts like sanding and cutting, properly store absorptive materials and change air filters regularly.
Storm water pollution prevention program and erosion and sedimentation control.
Programming and layout developed around a pre-existing structure. Kohl's embraced elements such as the existing multi-level office design. More than 99% of the structural elements of the existing building were maintained and incorporated into the new design.
Exterior
A white membrane roofing material reduces the building's energy demand and minimizes its heat island impact.
Minimized parking lot size to reduce runoff and the amount of asphalt used. Parking areas are allocated for carpools.
Native and adaptive plants used for landscaping.
Reduced light pollution through use of cut-off exterior lighting fixtures to direct the light only where needed.
Interior
No or low volatile organic compounds in interior finishes.
Low-flow plumbing fixtures throughout, reducing water use more than 35%.
High-efficiency lighting, advanced air conditioning and heating systems and an integrated climate control system
Learn more about Kohl's sustainability initiatives:

Website:
[sorry this link is no longer available]
(Visited 6,684 times, 2 visits today)