Applebee's new franchise opening this month in Harlem will be New York City's first LEED Gold-certified restaurant.
More than 40 green building elements are featured in the design and construction of Applebee's Neighborhood Grill & Bar at East River Plaza on 117th Street. The restaurant harvests rainwater from its rooftop greenhouse and automatic shades and skylights bring in and control daylight. It has Energy Star appliances, waterless urinals, reclaimed wood and LED lighting.
Bamboo figures prominently throughout the interior, used for the bar, countertops and chandeliers. One of the more striking features are living walls in the dining rooms (such as in the photograph below).
Display prominently near the entrance is an interactive Green Education Touch Screen that informs customers about the benefits of green buildings and the features included in the restaurant.
Right now, the building is "gift-wrapped" to build visibility for green building in the community. It opens December 10.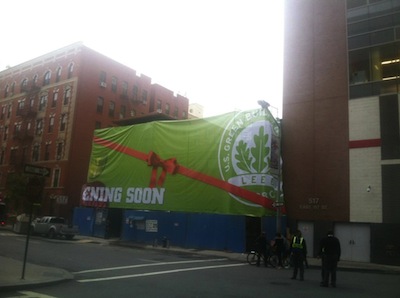 Franchise owner, Apple-Metro, has 35 Applebee's locations in the area, and plans to get more LEED certifications.
"It's about being a good neighbor, both locally and globally. We are focusing on green practices and are on a regular schedule of renovating and remodeling our existing restaurants to ensure that Applebee's in New York City is becoming more environmentally-friendly," says Zane Tankel, founder and CEO of Apple-Metro.
(Visited 71,248 times, 1 visits today)