During the summer, the scientific community sounded the alarm over the accelerating meltdown of the Arctic ice sheet.
Now, new data is raising concerns about a similar pattern in West Antarctica, which is warming twice as fast as expected. The trend has serious ramifications for sea level rise around the world, particularly in low-lying areas.
Since 1958, temperatures measured at the Byrd Station scientific outpost have risen an average of 4.3 degrees Fahrenheit (2.4 degrees Celsius), nearly three times as fast as the rest of the world.
a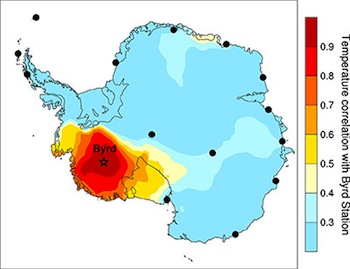 West Antarctica holds enough ice to raise world sea levels by at least 3.3 meters (11 feet).
"Our record suggests that continued summer warming in West Antarctica could upset the surface mass balance of the ice sheet, so that the region could make an even bigger contribution to sea level rise than it already does," says David Bromwich, professor of geography at Ohio State University and senior scientist at the Byrd Polar Research Center.
"Even without generating significant mass loss directly, surface melting on the [West Antarctic Ice Sheet] could contribute to sea level indirectly, by weakening the West Antarctic ice shelves that restrain the region's natural ice flow into the ocean," he says.
Thinning ice in West Antarctica is currently responsible for nearly 10% of global sea level rise. And scientists are gravely concerned about the 4 billion tons of methane that's trapped beneath the ice, about the same as under the Arctic icecap.
Predictions that sea levels will rise 7-24 inches during this century are already being surpassed around the world, as melting in Greenland and Antarctica continue to accelerate. And the east and west coasts of the US are rising much faster than the rest of the world.
(Visited 18,837 times, 4 visits today)