This week, General Motors (GM) announced it will accelerate development of electric cars in China as it seeks to
position itself in that important future market.
GM's Advanced Materials Lab opened in Shanghai last year, where it's doing research on battery technology and lightweight materials.
The Chinese government's short-term goal is to build at least 500,000 electric or "new energy" vehicles a year by 2015. So far, sales are slow, but the government is steadily working on infrastructure and incentives to change that.
An alliance of 16 state-owned car manufacturers including Dongfeng Motors, Chang'an Automobile Group and FAW Group is likely to claim much of that market, but US automakers are also stepping up their efforts.
"China has made electrification a key strategy. Electrified vehicles will play a critical role in efforts to conserve and ultimately displace petroleum as the major source of transportation energy," says Jon Lauckner, GM Chief Technology Officer, vice president of Global Research & Development, and president of GM Ventures.
GM's ultimate aim is to double the energy density of battery packs in electric vehicles so that they are smaller, lighter and less costly.
GM manages 12 joint ventures, two wholly owned foreign enterprises and more than 35,000 employees in China.
The company's electric vehicle strategy runs the gamut from "mild" hybrid technology built on the eAssist system to full hybrid technology used on full-size trucks and SUVs to extended range electric vehicles of all model types.
Many of its existing electrified vehicles are already available in the Chinese market including the plug-in Chevy Volt, Buick LaCrosse with eAssist and the Cadillac Escalade Hybrid.
Last week, Shanghai GM introduced a pure electric vehicle that will be built and sold in China – the SAIL SPRINGO (pictured below).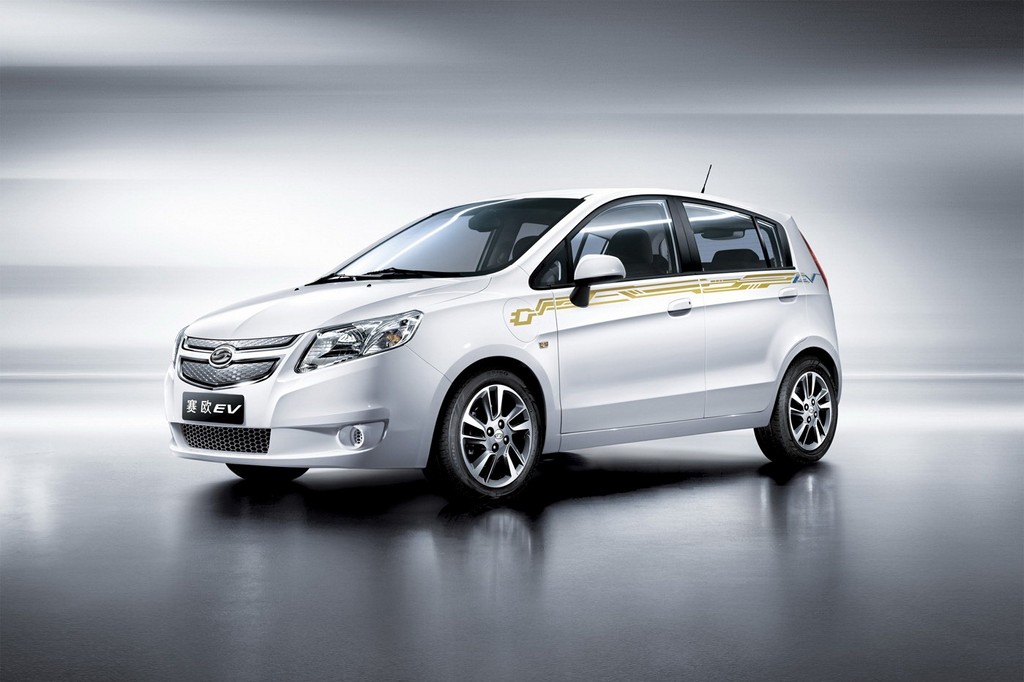 The hatchback has a range of about 81 miles per charge on highways and 120 miles in urban driving. Unfortunately, the car will retail for about $41,460, which is likely to put it out of reach for many Shanghai residents when it hits the market on a trial basis in 2013.
GM's efforts in China will also extend to urban mobility solutions, such as the EN-V (Electric Networked-Vehicle) two-seat concept car. Its first concept car has a top speed of 25 miles per hour and has two electric motors, one on each wheel.
The company is working on next generation concepts – which could be deployed in Tianjin Eco-City.
Nissan plans to export the Leaf to China for fleet sales and Volkswagen will introduce the Kaili EV with partner FAW Group in 2013 or 2014. Smith Electric Vehicles and China's biggest automotive components manufacturer have a joint venture to manufacture commercial EVs in China.

Domestic Chinese automakers have released or announced 40 pure electric vehicles and 31 plug-in hybrid vehicles that are scheduled to reach the market by 2015.
In 2010, almost all the domestic players joined an alliance, pledging to invest nearly $15 billion to develop China's EV market by the end of this year. The effort also includes China's top three oil companies and top two electric grid operators.
(Visited 9,495 times, 9 visits today)