Will people buy one sneaker versus another based on the environmental footprint? For that matter, can you really calculate such a figure accurately? Puma is putting both questions to the test.
Last year, the German sportswear company launched a ground-breaking effort to produce an annual Environmental Profit & Loss statement for the company as whole. It supplements traditional business metrics with the costs of air pollution, greenhouse gas (GHG) emissions, waste and water use that go into producing its apparel. The results of the first Environmental P&L are here.
Since then, it's been using the framework internally to make sustainable resource management and operational decisions, and now it is rating the environmental impact of individual products – starting with new "biodegradable" shoes and clothing that will hit the market in 2013.
Here's one example.
Puma estimates its new InCycle Basket shoe (pictured below) costs 31% less (a third of the environmental impact) than its Puma Suede conventional sneakers after accounting for the greenhouse gas (GHG) emissions, water, waste and land use associated with its production.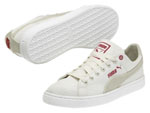 Because the sole is made of biodegradable plastic and the upper is made organic cotton and linen, Puma estimates the "environmental cost" is 2.95 euros per pair compared with 4.29 euros for the conventional suede shoe.
After being shredded, the shoe degrades to compost in six to nine months – provided customers return them to stores for proper processing rather than just throwing them into the trash.
Puma's new biodegradable T-shirt has a similarly reduced environment cost, says the company.
To calculate the environmental costs of its products, Puma considers GHG emissions associated with raising cattle for leather, water consumed for tanning versus that used for cotton production, and end-of-life disposal costs.
It analyzes these costs across its entire supply chain from the generation of raw materials and production processes to the consumer phase when our customers use, wash, dry, iron and finally dispose of the products.
"Environmental impacts traditionally have different units of measurement, making it difficult to compare the overall environmental impact of different products and this can be confusing for consumers," says Richard Mattison, chief executive of Trucost, which worked with Price Waterhouse Cooper to develop the environmental accounting methodology.
"One product may have a high water impact, another may be more carbon intensive or cause more pollution. Measuring the environmental impact in Euros and Cents allows companies to create an overall metric for each product that takes into account many different environmental factors," says Mattison.
Puma is trying to educate customers by demonstrating the environmental costs in euros and cents. They hope people will use the information to compare the sustainability of different products.
The company also participates in the Sustainable Apparel Coalition, which recently released the Higg index, enabling retailers to evaluate the environmental performance of the brands they sell.
(Visited 11,702 times, 224 visits today)