When President Obama talks about his health care bill (Affordable Care Act), he usually points to the Cleveland Clinic as a model for providing excellent health care at lower cost.
The Clinic also excells on sustainable practices, announcing that four new buildings are LEED-certified. That brings the Clinic's total to 10 LEED buildings, with two more planned.
All new buildings will earn a minimum of LEED-Silver, and all construction emphasizes recycling of debris, thus far achieving 76-98% diversion rates.
The Clinic is also embedding sustainability throughout its operations from using green cleaning products to buying locally produced food for its cafeterias. It cut energy consumption 20% in the past three years and recycles 30% of its waste.
Its most recently LEED-certified buildings are the Pathology & Laboratory Medicine Institute and the Twinsburg Family Health and Surgery Center (LEED-Gold) and the Richard E. Jacobs Health Center in Avon and Stephanie Tubbs Jones Health Center (LEED-Silver).
The Pathology and Laboratory Medicine Institute building houses one of the largest volume hospital labs in the US. At 136,000-square-feet, the building is an energy-efficient, state-of-the-art lab. Topped by a green roof, it maximizes natural light and LED lighting, among other sustainable strategies.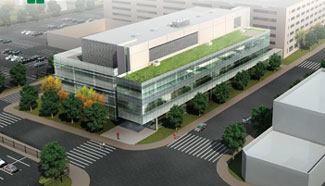 The 190,000-square-foot Twinsburg Family Health and Surgery Center is the Clinic's first family health center with a 24-hour emergency department and helipad. It offers 54 specialty care services, from allergy specialists to vascular surgeons. It was built with regionally sourced materials with recycled content, preserved surrounding wetlands and is recognized for superior indoor air quality.
Also 190,000-square-feet, The Richard E. Jacobs Health Center provides primary care, more than 30 specialty services, a pharmacy, on-site lab and a large physical therapy area with two aquatic therapy pools.
It earned LEED-Silver for its water efficiency, indoor air quality, minimization of site disturbance, purchase of regionally manufactured materials and recycled content, and overall energy cost reduction of nearly 15%.
The 50,000-square-foot Stephanie Tubbs Jones Health Center offers 25 healthcare specialties including primary, preventative and wellness care. It's recognized for water efficiency, advanced energy controls and sophisticated modeling, use of green materials, indoor environmental quality and innovation in design.
Cleveland Clinic, in Cleveland, Ohio, is a nonprofit multispecialty academic medical center that integrates clinical and hospital care with research and education.
Learn more about Cleveland Clinic's sustainability practices:
Website:
[sorry this link is no longer available]
(Visited 7,121 times, 29 visits today)