While it isn't unusual to hear about developers in states like California building solar PV into their home designs, initiatives focused on trying to achieve net-zero energy are just getting off the ground.
Green home builder Nexus EnergyHomes is expanding into South Carolina with two communities where geothermal and solar PV is a standard combination for each house.
The developer's base design includes a PV solar array, geothermal heating and cooling, energy recovery ventilation, super insulated building shells, state-of-the-art electronic and web-based controls and monitoring systems, and Energy-Star rated appliances.
Combined, these technologies enable homes to produce almost as much energy as they consume, saving homeowners thousands of dollars each year on energy expenses.
Sundial GeoSolar Community of River Birch in Summervillle, South Carolina consists of 12, three- to five-bedroom home designs ranging from 2,500 – 3,450 square feet and priced in the mid-$300,000 range.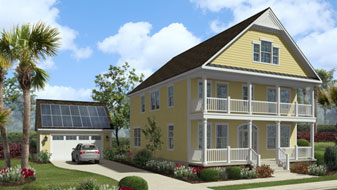 Sunchaser at Bridlewood Farms in Ridgeville, South Carolina is a 30-home community with designs ranging from 1,900-3,100 square feet and priced in the mid-$250,000s.
Over the past three years, Nexus EnergyHomes has developed 59 near-net-zero units in Frederick, Maryland. It also is building custom green homes in Pennsylvania and New Jersey.
Weather conditions in the Northeast are too variable for the homes to operate completely off the grid, but they are close to net-zero.
SMUD Invests in Net-Zero Construction
The Sacramento Municipal Utility District (SMUD) is also driving advances in near net-zero home development with its Homes of the Future initiative. In 2008, it earned LEED Platinum certification for a demonstration project in Folsom, California.
Since then, even though the region is one of the slowest to recover from the housing downturn, projects are being completed and more are planned.
SMUD's new project, which opened in August, is the first multi-family near net-zero energy project, La Valentina apartments in Sacramento.
81 affordable apartments in two buildings (pictured below), range in size from studios to three-bedrooms. They benefit from rooftop solar PV, Energy Star appliances, water saving fixtures, and on-site water retention basins.
5,000 square feet on the ground floor houses retail stores and a community center.
SMUD supplied financial incentives of nearly $487,000 that paid for the solar and efficiency measures.
The buildings exceed California's recently updated Title 24 building standards, which, starting in 2014, require buildings to be "solar ready" and update energy efficiency standards in important ways, such as orienting buildings to the south and making sure roofs aren't shaded.
La Valentina North is expected to use 63% less energy (both electricity and natural gas) than comparable buildings that meet California's new standards. The adjacent La Valentina Station building exceeds the state's energy efficiency codeby 26% and is being considered for LEED Silver status.
The buildings are sited on a brownfield, where an auto repair shop left highly contaminated soil. Although its in the heart of downtown Sacramento, near public transportation, the land was vacant for more than 20 years.
A few miles away is another SMUD near net-zero energy home community, under construction. Also an infill project, homes feature rooftop solar PV and solar water heating; advanced structural insulated wall and roof panels; high-performance heat pump heating and cooling systems, energy harvesting wireless switching for lighting control, and LED lights throughout.
Recent research shows having a green home in California can help sellers earn a 9% higher sales price compared with similar homes.
Learn about SMUD's new projects on incorporating energy storage into homes:
(Visited 9,778 times, 13 visits today)