The US now hosts more than 50 gigawatts (GWs) of power generated by wind projects, making it the most successful new energy technology since the 1980s, according to the American Wind Energy Association (AWEA).
The revelation comes as Washington, D.C., prepares for showdown over the wind production tax credit (PTC), set to expire on December 31, 2012. Before breaking for their August recess last week, Senate Democrats voted to support a one-year extension — which means the battle would have to be fought all over against next year.
What's the big deal over 50 GW of wind?
For one thing, it means the US is now using wind to replace the generating power of 44 coal-fired or 11 nuclear power plants. That generating capacity conserves 30 billion gallons of water a year compared to thermal electric generation, and cuts carbon dioxide emissions to the tune of taking 14 million cars off the road.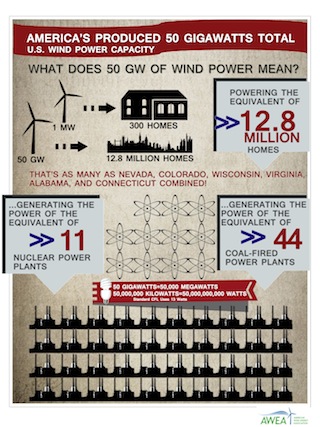 "This milestone for wind-energy production marks continued success for this clean, renewable and domestically produced energy source," says Senator Chuck Grassley (R-IA), father of the PTC, which helped Iowa become the state with the second most wind power in the nation, getting 20% of its electricity from wind. "Wind energy has exceeded expectations since I first authored the tax incentive, in 1992."
New projects connected to the grid in Nevada, Oklahoma, Idaho, California, Hawaii and Iowa helped put the US over the 50 GW milestone, reports AWEA.
Those projects feature turbines made by General Electric, REpower, Siemens and Vestas and include:
Pattern Energy's Spring Valley wind farm near Ely, Nevada (151.8 MW) – the state's first wind plant
Enel Green Power North America's Rocky Ridge wind farm in Oklahoma (148.8 MW)
enXco's Pacific Wind project in Kern County, California (140 MW)
Utah Associated Municipal Power's Horse Butte project in Idaho (57.6 MW)
First Wind's Kaheawa Wind II wind farm in Hawaii (21 MW)
There are now utility-scale wind farms in 39 states. It took from 1981-2003 to reach 5 GW of US wind and just three more years to double it to 10 GW. The US reached 25 GW of capacity in 2008.
In 2005, 25% of the components for wind farms were made in the US and today, 500 factories make about 70%.
The last new energy technology to ramp at this rate was nuclear power in the early 1980s; since then, no new energy technology has been as successful as wind, reports AWEA.
AWEA estimates that 37,000 American jobs are at stake if the PTC expires this year, and layoffs have already begun.
"These truly are the best of times and could be the worst of times for American wind power," says Denise Bode, CEO of AWEA. "This month we shattered the 50-gigawatt mark, and we're on pace for one of our best years ever in terms of megawatts installed. But because of the uncertainty surrounding the extension of the Production Tax Credit, incoming orders are grinding to a halt.
In 2011, wind energy accounted for a whopping 32% of all the new electricity capacity added in the US – top states were California, Illinois, Iowa, Minnesota and Oklahoma.
Over 2,800 MW have been installed so far this year and as of the second quarter, more than 10,000 MW of wind farms are under construction, an all-time high.
(Visited 9,655 times, 7 visits today)