A 125-acre tomato grower in California is using a first-of-its kind combined heat and power (CHP) system to provide electricity and hot water for its greenhouses, as well as carbon dioxide (CO2) for fertilizing the plants.
The installation at Houweling's Tomatoes in Camarillo, California, employs two GE 4.36-megawatt (MW) Jenbacher J624 two-staged turbocharged natural gas engines in combination with a GE-designed CO2 fertilization system.
Fueled by natural gas, the system generates 8.7 MW of electricity and 10.6 MW of hot water for heating the large-scale glass greenhouses on-site.
GE has installed more than 800 gas-fired CHP units in greenhouses around the world, but this is the first one in the US. The system will contribute power during peak daytime demand periods; the thermal energy can be transferred when it is needed, either applied immediately when the weather is cool or kept in reserve in storage tanks when it isn't necessary.
"This CHP system will provide the necessary heat, power and CO2 for the growth of our fresh greenhouse tomatoes," says Casey Houweling, owner of the greenhouse facility. "However, the impact of this project on the region goes far beyond the vegetables produced in the greenhouse. This ultra-high-efficiency CHP plant also will provide flexible power to our local utility with a very short response time."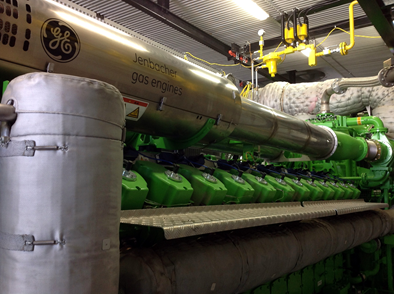 The technology will also help the greenhouse, which produces millions of tomatoes annually, save water – about 9,500 gallons per day. That's because Houweling's can reuse the water condensed out of the exhaust gas generated by the CHP system.
Houweling's was approved interconnection with the local electric utility.
The CO2 produced by the engine exhaust is being purified and piped into the greenhouse to fertilize the plants during the daylight photosynthesis process using other GE technology that removes unwanted carbon monoxide and nitrous oxides with special catalytic reduction equipment.
Western Energy Systems, GE's authorized U.S. distributor of Jenbacher gas engines and part of the Penn Power Systems organization, engineered and installed the cogeneration plant.
CHP technology is also being used at a unique vertical farm in Chicago. For more about the installation:
(Visited 7,392 times, 59 visits today)