Favorable incentives and financing models continue to fuel interest in small solar projects, with installations at schools, municipal buildings, hospitals and retail stores now accounting for 40% of the US pipeline, reports NPD Solarbuzz.
More than 1,300 projects underway are between 50 kilowatts (kW) and 500 kW in capacity with a cumulative PV generation of about 200 MW, they say in the US Deal Tracker report.
California accounts for more than 25% of the total US project pipeline and recently passed the 1.2 gigawatts (GW) mark for small rootop PV installations.
The top six states for small solar are California, New Jersey, Massachusetts, Arizona, Pennsylvania, and Hawaii.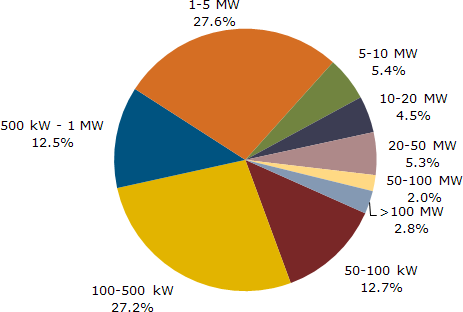 Source: NPD Solarbuzz
Just a few years ago, utility-scale projects were all the rage, but small solar has gained momentum and continued to shine in the second quarter, when projects of less than 1 MW were worth an estimated $21.5 billion.
In particular, small solar is benefiting from the emergence of solar leasing programs that make it far easier for homeowners and businesses to invest in clean energy without the upfront investment while providing strong returns for solar investors.
Two companies that have latched onto that model, SolarCity and Borrego Solar, raised another $165 million in financing two weeks ago and much of the growth of the past two quarters in both the US and Europe has been driven by smaller projects.
Another company, Martifer Solar USA, just announced more than 1 MW of upcoming community-owned solar garden projects, and it has a total project pipeline in excess of 5 MWs for 2012. Under the solar garden model, members can buy solar panels located in community arrays, on the roofs of schools and parking lots.
"These smaller projects have a considerable impact on the communities where they are being built, providing much-needed employment and energy cost reduction," says Christine Beadle, analyst for NPD Solarbuzz. "They also represent a significant opportunity for downstream balance-of-systems component suppliers and PV systems integrators within the United States."
They also provide some level of energy independence for businesses such as Walmart, which recently completed its 100th rooftop solar PV installation in California.
Co-existence With Agriculture, Reclaiming Brownfields
In some cases, small US PV projects are adding value to land that has been designated for agricultural purposes.
Some colleges are even starting to use sheep to maintain grass under PV arrays, and a test project in North Carolina would couple a 4 MW system with a sheep and lamb farm, says Solarbuzz.
"While PV arrays are often criticized for taking land away from agriculture and farming, the combination of sheep farming and PV power generation is a great solution in many areas, as farmers can benefit from two sources of income," says Beadle. "And while the concept of sheep herding in the same field as a PV array is still in its infancy, it certainly shows a great deal of promise."
Projects on brownfields and marginal lands are also becoming a focus in places such as New Jersey that are looking to reclaim abandoned or unused industrial lands.
Distributed Generation Capacity to Triple?
And rising interest in small solar is helping to fuel another important trend: a shift toward distributed generation.
"In a growing number of cases around the world, renewable distributed generation technologies are more cost-effective than centralized installations that require transmission to population centers," says Dexter Gauntlett, research analyst for Pike. "In many ways, momentum is shifting to distributed, renewable sources that give consumers more control over the electricity they consume and generate. But in order to reach its full potential, the renewable distributed energy sector will require continued innovation in business models, technology development, utility participation and investment in an uncertain economic climate."
Over the next five years, worldwide installations of renewable distributed generation will nearly triple, reaching 63.5 GW annually by 2017, predicts Pike Research.
The large majority of that capacity will come from solar PV. Roughly 210 GW of the additions between 2012-2017 will come from solar projects, they say.
For more on the advantages of small solar projects:
(Visited 8,107 times, 3 visits today)