An oral surgery office in San Francisco is the first
privately held medical/surgical facility to earn LEED Platinum certification
for Commercial Interiors.
As a testament to the success of the project, it is worth
pointing out that even though the new office for San Francisco Surgical Arts is
twice the size of its existing office in Cupertino, California, the energy
bills are one-third the amount.
"Our goal was to create a green practice to serve as an
example for the healthcare community, showcasing the endless possibilities with
today's technology and sustainable building materials. We've invested heavily in cutting-edge
technology to improve our patient outcomes, while reducing the impact on our
environment and local community," says Nima Massoomi, DMD, MEd, MD, and
co-founder of San Francisco Surgical Arts. "Our new facility dispels the
typical feel of a surgical office, making our patients and staff feel as if
they're visiting a spa."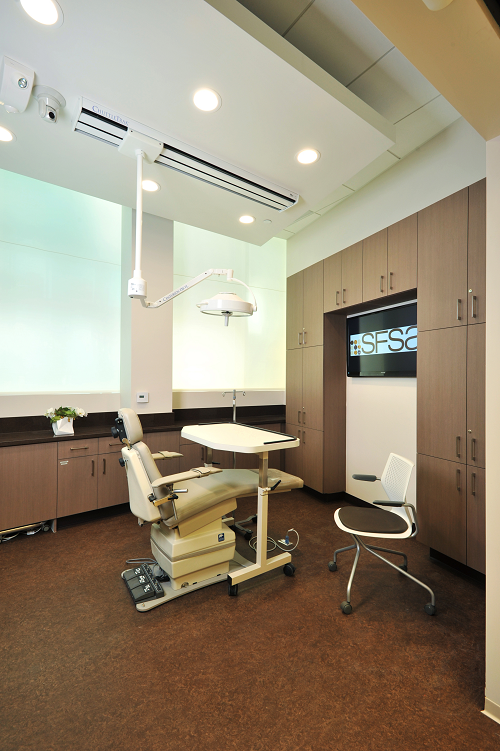 A major focus of the LEED project involved addressing the
paper medical records, constant hand washing and energy intensive equipment
that are traditionally associated with medical offices.
Here's how the company addressed those issues and earned
its Platinum level recognition in the process:

Energy/Waste/Water efficiency

Engineered a 37% reduction in power needed for lights
through LED technology, occupancy sensors and lighting controls
90% of appliances are Energy Star-rated, including LED
monitors and solar-powered keyboards
Installed a 100% paperless records and administration
systems
Reduced water usage 40% through pressure assist toilets
and automatic faucets

Sustainable Materials/Indoor Environmental Quality

Post-consumer recycled content in steel framing, wall
coverings, countertops and floor tiles
An initiative to recycle and salvage more than 75% of
the construction waste
Furniture containing 97% recycled content
"Green Cleaning Procedure" to minimize building
occupant exposure to hazardous chemicals
An oil-free medical suction system featuring integrated
amalgam-separator to prevent mercury waste into the San Francisco Bay and
Pacific Ocean
Installation of a
combination 2D / 3D medical CT imaging machine that has one of the
lowest radiation profiles on the market
The project was spearheaded by Environmental Building
Strategies (EBS), with design advice and services from The Kohan Group and All
Phase Builders.
"By working with EBS to implement environmental features
from the design phase, San Francisco Surgical Arts expects a strong return on
investment from energy, water and waste savings," says Matt Macko, founder and
principal of EBS.
As of late July, the US Green Building Council (USGBC)
surpassed 2 billion square feet certified under the LEED green building
program. The program is certifying about 2 million square feet of commercial
building space on a daily basis in more than 130 countries. In July alone,
there were 300 projects certified, including a Commercial Interior project at
Google's facility in Mumbai, India.
"In communities around the globe, leaders from every
sector of the building industry are reinventing their local landscapes with
buildings that enliven and bolster the health of our environment, communities
and local economies," says Rick Fedrizzi, president, CEO & Founding Chair,
USGBC. "The journey to this milestone has energized our economy–funneling $554
billion annually into the U.S. economy alone–and has helped support 7.9 million
jobs across the US."
Last month, 27 trade groups began pushing their own green
building standard to compete with LEED. The move it notable, because it comes
as agencies across the US federal government including the Department of
Defense are getting into green building big time.
But this new Platinum recognition proves again, that
buildings don't have to be big to be green.
(Visited 4,574 times, 1 visits today)