Previously unused land at a highway rest stop in Oregon is now home to a 1.75-megawatt (MW) solar array that produces about 11% of the annual electricity needed by the Department of Transportation's local offices.
Described as the largest solar highway project, the Baldock Solar Station near Wilsonville, Oregon, uses 6,994 solar panels across seven acres that are also planted with corn and cabbage crops. The site on Interstate Highway 5 is being used as an interactive, educational center to illustrate the benefits of solar power, and it supports a sustainable community garden plant.
The project cost $10 million to develop, and it was a collaboration between the Oregon Department of Transportation (which owns the land) and local utility Portland General Electric (PGE). The array is designed to generate about 1.97 million kilowatt-hours (kWh) of power annually.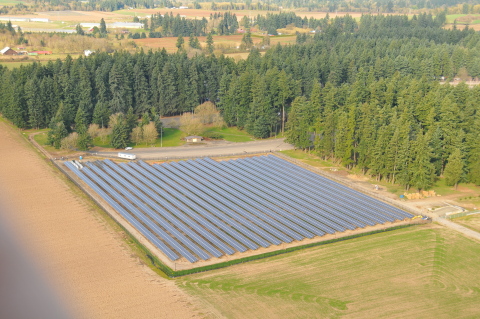 "The Baldock Solar Station not only educates travelers about the booming solar industry in our state, but showcases what can be accomplished through creative collaboration between public and private partners," says Jim Piro, president and CEO of PGE.
All the technology used in the project was sourced in Oregon: the panels were made by SolarWorld of Hillsboro, while the inverters were provided by Advanced Energy of Bend.
The station is the second joint highway solar project between the Oregon highway department and PGE, which serves 828,000 residential and business customers in the state.
Oregon's Renewable Energy Standard calls for the state to produce 25% of its electricity from renewable energy sources by 2025.
PGE currently has 37.7 MW of solar power online through utility and customer resources in Oregon. Nearly 3,000 PGE customers use solar systems installed on homes or businesses.
The highway project was financed by Bank of America, the Energy Trust of Oregon, PGE's Clean Wind program and the state's Business Energy Tax Credit program.
For more about Oregon's clean energy and energy efficiency plans:
(Visited 10,277 times, 4 visits today)