The largest construction project in California is the "Hospital of the Future," incoporating best practices in healthcare and green design.
It's one of just two hospitals in the US that bring natural light into operating rooms, for example.
Located in San Diego County and designed by CO Architects, the 288-bed Palomar Medical Center opens in August.
Some of the design innovations in this 11-story, 740,000-square-foot complex are:
Exterior and interior gardens are on every floor, and there's a 1.5-acre green roof.
First project of its size and complexity to employ Building Information Modeling in the design phase, where all parties participate upfront
Largest project to use Integrated Project Delivery, where each partner – building owner (Palomar Health), architect (CO Architects), and contractor (DPR) – have a financial stake in the on-time and on-budget completion of the building.
Design decisions were guided by Evidence-Based Design, a process that includes documented input from individuals in all hospital departments.
Progressive healthcare delivery, such as same-handed design of operating and patient rooms, patient rooms designed to be acuity adaptable, and distributed nursing stations.
The $956 million hospital, which was partially funded through a local proposition, is designed for easy adaptation to future space and technology needs over the next few decades.
Although the architects say the building is optimized for efficient water and energy use and air quality, they don't mention LEED certification.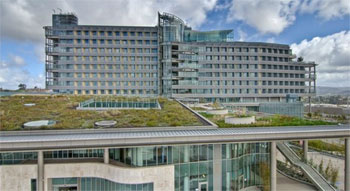 (Visited 6,983 times, 5 visits today)