by Ron Benenati
Cattails (Typha spp.), a common wetland plant that's found worldwide, are being used to provide low-cost bioenergy, improve wetland habitat, and solve pollution problems all at the same time.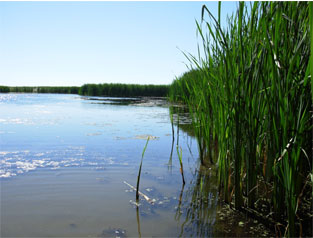 Canada's International Institute for Sustainable Development (IISD) developed the Cattail initiative as an example of a transformative economic model where the basic inputs for industry comes from renewable resources with the goal of improving water quality.
Sustainable development benefits:
Bioenergy production: harvested cattails can be turned into compressed fuel products (e.g., pellets and cubes) used for bioenergy production.
Carbon credits: cattail biomass can be burned in place of coal and other fossil fuels, resulting in fewer greenhouse gas emissions, and generating profitable carbon credits.
Nutrient removal: Harvesting the nutrient-laden cattails permanently removes phosphorus from the marsh, which benefits downstream waterways by decreasing nutrient loading.
Phosphorus recovery: ash from burned cattails
contains phosphorus, which can be recycled into fertilizer. Phosphorus is a scarce, strategic natural resource, critical to global food security.
Habitat improvement: removing the dense accumulation of dead plants opens the marsh to sunlight, spurring new plant growth and renewing wildlife habitat.
"The beneficial cattail project demonstrates how innovative thinking can turn environmental problems into downstream and upstream opportunities that can be applied around the world," says Hank Venema, director of IISD's Water Innovation Centre. "For example, IISD is working with utility Manitoba Hydro to displace coal using cattails."
"In the face of widespread concerns around food, energy, water, and resource security and scarcity, the increasing use of renewable inputs to industrial economies is inevitable and urgent," says IISD project leader Richard Grosshans.
Cattails produce a tremendous amount of biomass in a single growing season, compared with many other biomass sources that require multiple seasons before they can be harvested.
What's the cost? The same or less than coal! In Manitoba, coal costs roughly CAD$70 per ton, compared to CAD$50-$85 for cattails, depending on the processing method. And it offers income from carbon offsets and removes phosphorus from traditional wastewater treatment at a lower cost.
It also produces a new revenue stream for farmers on marginal agricultural land that typically lays barren, while avoiding the ethical "food versus fuel" question that arises when biomass crops are grown on prime agricultural land.
The initiative, part of IISD's Lake Winnipeg Bioeconomy Project, has been selected as a member of Sustainia100, an initiative announced at Rio+20, to catalog the world's best 100 solutions for moving society towards sustainable development.
Solutions on the Sustainia100 website are readily available, innovative and scalable – what's needed to create sustainable societies. Innovations have been gathered from 56 countries in city planning, energy, fashion, water and waste management, high-tech and transportation. Collectively, they provide a guide of the building blocks available for transforming our societies.
Sustainia100 website:
Website:
[sorry this link is no longer available]
(Visited 6,541 times, 60 visits today)