China is moving to make green building a centerpiece of its energy plan.
30% of new construction in China will be energy efficient by 2020, says a document released by the Ministry of Finance and the Ministry of Housing and Urban-Rural Development.
China wants its building sector energy consumption ratio to be closer to that of developed countries and plans to provide incentives for green buildings, raise industry standards and foster development of related industries.
Vice Premier Li Keqiang says 75% of the country's buildings are not efficient and are in need of renovation and there are plans to invest about $800 billion in energy saving and environmental protection projects, noting that urbanization is the most pressing environmental need in China. He visited Europe recently asking for greater relaxation of policies on exporting high-end technology.
The country's goal is to reduce the economy's carbon intensity by 40-45% in 2020 compared with 2005. Last week, the World Bank asked China to urgently reduce greenhouse gas emissions from its rapidly expanding cities through energy efficient buildings and industries, transport systems and water and waste management.
Making green buildings a centerpiece for efficiency efforts will create incentives for green building materials and clean energy, driving those industries forward. Buildings are responsible for half of China's steel consumption and 60% of cement consumption – and is on track to account for a third of total energy consumption by 2020, according to the Ministry of Finance.
An example of green construction are nine residential towers planned for Suizhong, China, which combine courtyard apartments, row houses, retail zones and high rise towers. Courtyards and connected green roofs will weave throught complex like a maze promoting community interaction and walkability and the complex is oriented to receive maximum daylight and views.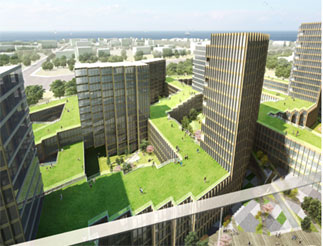 In related news, owners of high-emission vehicles will begin receiving fines by the end of this year, the National Development and Reform Commission of Shenzhen Municipality announced.
The move aims to get people to buy low emission vehicles to cut greenhouse gas emissions by 59,000 tons by the end of 2015.
Ocean Protection Too
Ocean preserves will account for 5% of China's total sea area by 2020 under a plan released by China's State Oceanic Administration.
The National Marine Functional Zoning plan (2011-2020) creates eight categories for China's seas: mariculture and fishery; ports; industrial; urban; natural resources; maritime preservation; special usage and reservation areas.
Over 2000 kilometers of coastline will be restored and 35% of the coastline will be maintained in its natural state.
Almost 2 million hectares have been approved for development including 2.6 million hectares for sea farming by 2020.
(Visited 11,030 times, 8 visits today)