Japan could become the next boom market for solar after it rolls out feed-in tariffs (FiT) for renewable energy in July, and several large projects have already been announced.
With its nuclear plants shuddered there's a big energy hole that needs to be filled. Strict energy conservation efforts are helping, and the country will increasingly rely on renewable energy.
Solar projects could produce equity returns of as much as 44%, and wind 51%, if the proposed rates are finalized, says Bloomberg New Energy Finance. The Fit could result in 10 GW of solar and 0.7 GW of wind capacity by 2014, representing an investment of $37.5 billion. That would make Japan the third largest solar market in the world.
But the FiT rates have yet to be finalized, which could postpone the July 1 launch. Many proposed projects in solar, wind and geothermal are on hold, pending pricing decisions.
Japan's goal is to boost renewable generation by more than 30 gigawatts (GW) over the next decade – the equivalent of 12% of Japan's total generation capacity before the nuclear meltdown.
Many wind projects are on hold, but construction of three floating wind turbines begins this year.
Solar
Starting construction in July is Kyocera's 70 megawatt (MW) Kagoshima Nanatsujima Mega-Solar Power Plant which will jut out into Kagoshima Bay.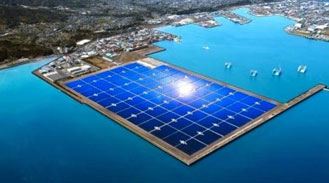 314 acres will be covered with 290,000 Kyocera solar modules -and will power 22,000 households.
Partners for the $309 million project are solar panel maker Kyocera, which will build and maintain the system, IHI Corporation, which owns the land, and Mizuho Corporate Bank, which is charge of the financing plan.
In another project, Softbank Corporation's new renewable energy subsidiary, SB Energy, wants to build a much larger plant at 340 MW on 480 hectares near Tomakomai, Hokkaido.
Last month, the company announced plans for three smallish solar plants, a 4.2 MW plant in Kyoto, a 2.4 MW plant in Gunma and a 5.6 MW plant in Tokushima.
Power purchase agreements with the utility will be signed once the Japanese government finalizing prices for the renewable energy feed-in tariff.
Geothermal
Geothermal could grow to 2 GW by 2020, up from just 537 MW today under the new FiT.
The government has decided to allow development even in protected areas like national parks, where about 80% of geothermal resources are.
Besides paying above-market rates for renewable energy, $109 million is being set aside for feasibility studies and test drilling over the next year.
"Globally, we will see a continued shift toward Asia. We expect over 50 percent of geothermal investment in that region, thanks to the number of late-stage projects, high-grade resources and increasing policy support," says Stefan Linder, an analyst with New Energy Finance.
Biomass
The government is financing build-out of four 1.5 MW biomass plants to process the enormous debris from Japan's disasters. 70% of the 22 million tons collected is wood.
After the debris is used up, the plants will switch to wood waste from from lumber and paper mills.
First Energy Service Co. which has a 11.5 MW plant, is also accepting radiation-contaminated debris, saying they can clean it up to the point where "practically no" radioactive substances will be released into the atmosphere during incineration.
(Visited 22,921 times, 5 visits today)