New York City is embarking on a visionary, game-changing project that will demonstrate
how to dramatically grow the economy by investing in advanced education and clean energy.
It's building an entirely new applied science campus, dubbed NYCTech, to turn the city into a high tech center of innovation, and to turn its home on Roosevelt Island into "Silicon Island."
The campus, which will break ground in 2015, will be among the greenest in the world and will be an economic boom for the city, generating an estimated $23 billion over the next 30 years, $1.4 billion in tax revenue, 20,000 construction jobs and 8,000 full-time jobs, according to NYC's Economic Development Corporation.
Besides being an educational powerhouse, it's expected to spin-off about 600 companies, creating another 30,000 jobs.
In addition to providing cutting edge research and teaching, NYCTech will offer support for the kinds of businesses that excel in NYC – urban planning, medicine, advertising, and finance. Services to get these businesses off the ground will include pre-seed financing, legal support, partnership building, and business competitions designed to spur innovation. An on-site tech transfer office will facilitate startup formation and technology licensing. A $150 million revolving financing fund will be solely devoted to NYC start-up
businesses.
Net-Zero Energy Campus
The 11-acre, 2 million square foot campus will be built on Roosevelt Island, a narrow, two-mile long island between Manhattan and Queens.
Besides being designed for maximum energy efficiency, the entire campus will face the sun to make the most of passive solar gain.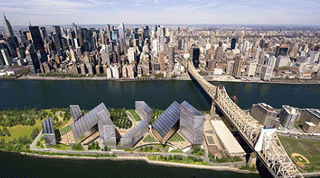 The NY office of Skidmore Owings and Merrill architects is designing the 400,000 square foot first phase – a "net zero" campus that produces as much energy as it consumes. Roger Duffy, one of the partners,
is also working on a Staten Island public school that will be one of the largest "net zero" buildings in the US. NYCTech is expected to achieve LEED-Silver certification.
Distributed Sun won the contract to build 1.8 megawatts of solar arrays, as well as 400 geothermal wells. Fuel cells, which run on natural gas and are charged by geothermal, will also be used. Combined, the solar, geothermal and fuel cells will produce nine gigawatt-hours of electricity a year, powering 75%
of the campus's energy.
"The campus is pointed toward maximum solar output and minimum impact on the environment,"
says Jeff Weiss of Distributed Sun. "In solar parlance, Cornell's architectural and energy teams have envisioned a truly optimal azimuth (the solar angle achieving maximum energy output) that boldly defines
their mission and aligns this landmark precisely toward our nation's shared science, energy, and economic futures."
Besides employing leading clean technologies, the campus will serve as a living lab where new technologies will be developed.
A temporary off-site campus will open this year and the first phase will be finished by 2017. The entire project will be completely built out by 2043.
Cornell/Technion Consortium Wins Competitive Bidding Process
Technion – Israel Institute of Technology and Cornell University will collaboratively build the campus after jointly winning the competitive proposal process.
The Technion – Israel Institute of Technology, which is known for its leadership on clean technology, and Cornell University were selected because of their reputations in science, engineering, technology and
research, for their impressive track-record in generating applied science breakthroughs and spinning out new businesses, and for their financing and execution capacities.
"Thanks to this outstanding partnership and groundbreaking proposal from Cornell and the Technion, New York City's goal of becoming the global leader in technological innovation is now within sight," says Mayor Bloomberg. "By adding a new state-of-the-art institution to our landscape, we will educate tomorrow's entrepreneurs and create the jobs of the future. This partnership has so much promise because we share the same goal: to make New York City home to the world's most talented workforce.
When it's completed, the number of full-time, graduate engineering students enrolled in leading New York City Master's and Ph.D. programs will grow by 70%.
Cornell/Technion have agreed to a 99-year lease for the Roosevelt Island site, with an option to
purchase the land at the end of the term for $1. Cornell will develop and own the campus, and will assume financial responsibility for its establishment and operations.
The NYC Tech Campus is expected to become a world-leading institution, conferring graduate degrees and conducting research in the applied sciences with a commitment to innovation, commercialization, and the creation and retention of businesses and jobs in New York City.
Academic uses are anticipated to range from classrooms, to labs, libraries, start-up incubator and accelerator space. 2500 students and hundreds of faculty and staff will live on campus, where there will also be a conference center and retail space.
Insight Into Technion, Cornell
Technion has long been considered a driving force behind Israel's emergence as one of the world's great centers of technology. The country has one of the highest concentrations of high-tech start-up companies globally.
In partnership with a strong community of incubators, investors, and entrepreneurs, its tech transfer
arm (Technion Technology Transfer) files an average of 300 patents a year, producing startups in areas such as cleantech, cell therapy, drug delivery and nanotechnology.
Companies including Intel, Google, Microsoft, IBM, Qualcomm, Broadcom, Yahoo! and Hewlett-Packard have established major operations near or on Technion's campus to be close to its world-class research, students and faculty.
Technion graduates head nearly half of the 121 Israeli companies listed on NASDAQ, with a combined market value of over $28 billion. About 4,000 start-ups are located near Technion's home campus.
Cornell is one of only a handful of institutions with top-10 programs in the key disciplines that drive today's tech sector: Computer Science, Electrical and Computer Engineering, Materials Science and Nanotechnology, and Information Science. It ranks fourth in the world in the number of graduates who go on to pursue PhDs in engineering or the natural sciences at American institutions, and is increasingly focused on commercialization in tenure evaluations.
Cornell faculty and alumni have founded over 2600 companies around the world in the
past five years, raising almost $11 billion in capital.
++++
(Visited 66 times, 4 visits today)