The world's fourth tallest skyscraper is going up in Wujiang, China, the Greenland Group Suzhou Center.
US architects Skidmore, Owings & Merrill (SOM) won the international competition to design the 75-story tower, which will house offices, apartments, hotel and retail on 37,000 square meters.
The tower features a 30-story tall atrium which has operable windows to pull fresh air into the residential and hotel areas, which the architects say is key to the building's environmental performance.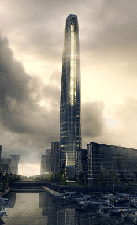 "The design of the Greenland Group Suzhou Center utilizes an atrium as the 'lung' of the building to provide ventilation and will incorporate a series of high efficiency measures with the objective to achieve a 60% savings in energy consumption compared to a conventional US high rise and a 60% reduction in potable water use," says Luke Leung, SOM Director of Sustainable and MEP Engineering.
Major high performance energy saving strategies include a high performance façade, using cooler outside air at higher levels for natural ventilation of the atrium, natural light harvesting using daylight responsive controls, lighting energy optimization using efficient fixtures and occupant controls, energy recovery systems, demand controlled ventilation, and an onsite energy center with combined heat and power plant to capitalize on the overall load diversity of the development.
World's Largest Bus
China also unveiled the the world's largest bus, which can accommodate up to 300 passengers, and is 82 feet long.
A fleet of them will travel through some of China's most congested cities, Beijing and Hangzhou.
The bus features two accordion-style sections, allowing it to bend around corners. The bus will have a dedicated lane on highways making it a more efficient way to travel than cars.
(Visited 5,199 times, 1 visits today)