For the first time, US solar installations will break through the 1 gigawatt (GW) barrier for the year.
The US is expected to get 1.7 GW of solar installed this year, up 89% from the 887 MW installed in 2010, and 435 MW in 2009.
Grid-connected PV installations in Q3 2011 grew 140% over Q3 2010.
The U.S. now has over 3,650 MW of installed solar capacity, enough to power 730,000 homes.
There was over 200 MW of utility scale installations in Q3 2011, a 325 percent increase over last quarter.
The average solar system price decreased 14.4% in Q3 2011 over the last quarter.
Almost half a gigawatt (449.2 MW) was installed in the third quarter (Q3), a rise of 40% from Q2, and the industry is likely to beat that in the final quarter of this year, according to the Solar Energy Industries Association (SEIA).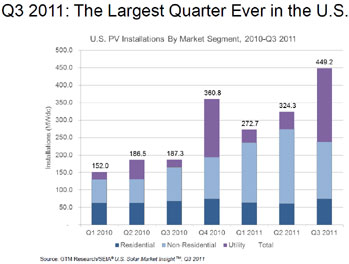 Plummeting prices, falling 40% this year, which have been so hard on solar manufacturers, have been a boon for installers.
Much of the growth is in utility-scale projects, rising 325% over the previous quarter as 23 projects came online for a total of 200 MW, a 325% rise from Q2. More plants will come online in the fourth quarter, pushing that sector higher for the year.
Residential installation also rose a healthy 21% compared to Q3 2010, thanks to solar companies that install solar at no cost to homeowners, only charging then for electricity use. California was home to 44% of all residential solar in Q3.
The drag is in business installations, which declined 25% in the third quarter because of changes in state incentives in California, New Jersey and Pennsylvania.
There wasn't enough state funding available in California to meet business demand for solar incentives. In New Jersey and Pennsylvania, the recent solar boom was enough to meet those states' Renewable Energy Portfolio incentives, making new projects less attractive.
Much of this growth is due to the Department of Treasury's 1603 program, which is set to expire on Dec. 31 unless Congress extends it, says SEIA. In the absence of an extension of the program, SEIA expects a tax equity bottleneck for projects in 2012, leading to a possible slowdown in installations in late 2012 and into 2013.
While domestic solar markets are booming more than ever, the report notes the U.S. solar industry is facing more uncertainty than at any point in recent history. On one hand, solar module prices are falling precipitously and system prices have never been lower; on the other hand, the market faces substantial risks in the form of legislative, financing, political, and market barriers.
"U.S. solar is entering 2012 with a sense of cautious optimism," says Shayle Kann, Managing Director of the solar practice at GTM Research, which produced the report for SEIA. "There are three questions on the mind of everyone in the market: one, what would be the impact of the 1603 Treasury Program's expiration; two, can emerging commercial markets like Massachusetts, Colorado, Ohio, Tennessee, and Hawaii ramp up as major markets like California, New Jersey and Pennsylvania trend downward; and finally, how will the trade petition against Chinese solar imports impact market dynamics, both in the immediate term and if duties are ultimately levied?"
Here's the report:
(Visited 10,989 times, 2 visits today)